Turning Points in Jewish History (Paperback)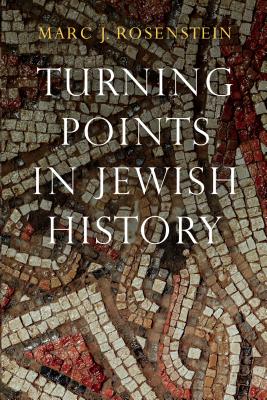 $29.95

Usually Ships in 1-5 Days
Description
---
Examining the entire span of Jewish history by focusing on thirty pivotal moments in the Jewish people's experience from biblical times through the present—essentially the most important events in the life of the Jewish people—Turning Points in Jewish History provides "the big picture": both a broad and a deep understanding of the Jewish historical experience.

Zeroing in on eight turning points in the biblical period, four in Hellenistic-Roman times, five in the Middle Ages, and thirteen in modernity, Marc J. Rosenstein elucidates each formative event with a focused history, a timeline, a primary text with commentary as an intimate window into the period, and a discussion of its legacy for subsequent generations. Along the way he candidly analyzes various controversies and schisms arising from Judaism's encounters with power, powerlessness, exile, messianism, rationalism, mysticism, catastrophe, modernity, nationalism, feminism, and more.

The book's thirty distinct and logically connected events lend themselves to a full course or to customized classes on specific turning points. Discussion questions for every chapter (some in print, more online) facilitate reflection and continuing conversation.

 
About the Author
---
Marc J. Rosenstein is the former director of both the Hebrew Union College–Jewish Institute of Religion's Israel Rabbinical Program and the Galilee Foundation for Value Education. He is the author of Galilee Diary and the coauthor of Our Place in the Universe: Judaism and the Environment.
 
Praise For…
---
"Surveying more than three millennia—from the Call to Abraham in roughly 1500 B.C.E. to the fall of the Iron Curtain in 1989—Rosenstein . . . highlights 30 events that have shaped Jewish life. The author effectively captures the essence of each turning point, providing both a timeline and a salient primary text explaining the Jewish understanding of each event. . . . From the beginning, Rosenstein insists that Judaism is a combination of nation, culture, and religion, a fact that will be debated for some time to come. Fortunately, he provides us with the fascinating basics to understand that debate. . . . Each chapter is supremely readable, understandable, and enlightening, making the book a valuable addition to any library."—Kirkus, starred review

"With strong overviews of foundational developments throughout Judaism—the exodus from Egypt, the destruction of the first and second temples, the expulsion of Iberian Jewry, the Holocaust, and the founding of the modern state of Israel—readers will appreciate Rosenstein's evenhanded treatment."—Publishers Weekly

"Particularly helpful for high school students of Jewish history as well as adult learners, in addition to members of other faiths looking for an accessible and yet substantive introduction to the topic, Turning Points in Jewish History is reflective of an experienced educator's passion for historical material alongside its contemporary relevance."—Stu Halpern, Jewish Book Council

"This book offers an articulate, readable, balanced introduction to Jewish history, one that could be utilized in the classroom or for individual enrichment."—Marie Nuar, Reading Religion

"Now Jews and non-Jews in the English-speaking world have a superb new book which enables them to learn Jewish history in a comprehensive and innovative way. . . . Written by a master Jewish educator and erudite Jewish historian, this book will be invaluable for rabbis, educators, and Jewish history professors who are looking for a great new resource for their adult education, high school and university classes. . . . [Turning Points in Jewish History] offers us a sweeping view of Jewish history, one that is totally relevant and related to the complex times in which we live."—Rabbi Dr. Ron Kronish, Times of Israel

"The history of the Jewish people is remarkable but very difficult to teach. Here, impressively, Marc Rosenstein conveys the drama and complexity of Jewish history in a single accessible volume. This will be an ideal tool for adult and teen synagogue education as well as university courses."—Rabbi Eric H. Yoffie, president emeritus, Union for Reform Judaism
 
 

"Rosenstein presents thirty pivotal moments in Jewish history with verve, insight, and pedagogical genius. This book evidences balance, deep knowledge, and a capacious view of the Jewish experience. The primary texts, time lines, and bibliographies are consistently well chosen; the side commentaries reliably guide the reader; and the texts for further discussion hit the sweet spot between canonical and provocative."—Alan Levenson, Schusterman/Josey Chair in Judaic History at the University of Oklahoma and author of Joseph: Portraits through the Ages
 

"Fantastic book! An extraordinarily accessible one-volume story of the Jewish people."—Ron Wolfson, Fingerhut Professor of Education at American Jewish University and author of Relational Judaism??