Gene Basset's Vietnam Sketchbook: A Cartoonist's Wartime Perspective (Paperback)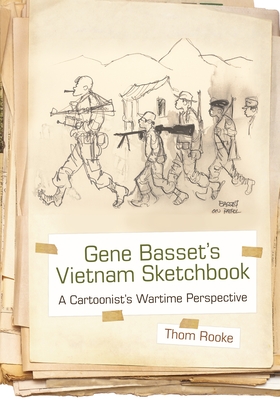 $24.95

Usually Ships in 1-5 Days
Description
---
In 1965, Gene Basset, a well-known political cartoonist, was sent to Vietnam by his newspaper publishing syndicate. His assignment: to sketch scenes of the increasingly controversial war in order to help the newspaper-reading public better understand the events occurring in Southeast Asia. In much the same way that M.A.S.H. gave viewers an irreverent, wry view of war and its devastating effects on citizens as well as soldiers, Basset's sketches portray the everyday, often mundane, aspects of wartime with an intimate touch that eases access to the dark subject matter. In this affectionately curated collection, author, doctor, and longtime friend of the artist, Thom Rooke, deftly leads us through more than eighty of Basset's cartoons, organizing his insights according to the well-known stages of grief, from denial to acceptance, and demonstrating how Basset's images convey moments of trauma, coping, and healing.
From scenes of American GIs haggling with Vietnamese street vendors to a medic dressing the wounds of a wide-eyed soldier, Basset's endearing sketches and Rooke's friendly prose humanize life during wartime. The seriocomic vignettes and analyses are delivered with wit, compassion, and subtle charm sure to please academic, artistic, and casual readers alike.
About the Author
---
Gene Basset is an American cartoonist primarily known for his editorial cartoons. He was the chief editorial cartoonist with Scripps Howard newspapers for twenty years. In 1982, Basset joined the staff of the Atlanta Journal-Constitution, where he worked until his retirement in 1992. His work has been exhibited at the Pratt Institute, and in 2005, drawings done by Basset during a trip to Vietnam were exhibited at Gustavus Adolphus College. Thom Rooke is professor of medicine at the Mayo Clinic in Rochester, Minnesota. He holds an endowed chair in vascular medicine and is former head of the Section of Vascular Medicine and director of the Gonda Vascular Center.