Turbostrategy: 21 Powerful Ways to Transform Your Business and Boost Your Profits Quickly (Hardcover)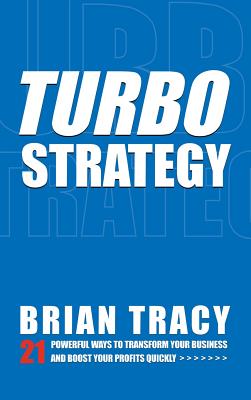 for information about purchasing this book, please contact orders@bookpassage.com
Description
---
"All the business wisdom in the world isn't worth a dime if it doesn't produce results. Brian Tracy has worked with more than 500 companies throughout the US, Canada, and 22 other countries. He has helped hundreds of thousands of people worldwide to achieve spectacular results, and now he is helping businesses reach new levels of success with "TurboStrategy."
""I call it "TurboStrategy,""" says Tracy,""because it is an intensive, fast, short, sharp, effective way of setting and implementing any strategy."" Now companies in all industries can get on the fast track to more focused strategy, better planning, more powerful marketing and sales approaches, and higher profits. Readers will discover the practical techniques that the most successful businesses use to thrive, even in the toughest markets. They'll also learn how to:
* Maintain flexibility, the key to dealing with an ever-changing business landscape
* Articulate their business's vision, values, mission, purpose, and goals--both short- and long-term
*""Draw a line through the past"" and become their own turnaround specialists
* Hire the best people --and motivate them to excellence
Through 21 strategy points and dozens of examples, stories, and quotations from world-class thinkers and corporate leaders, Brian Tracy will show any company how to turbocharge its strategy and get its business firing on all cylinders.