Salomé: A Tragedy in One Act (Hardcover)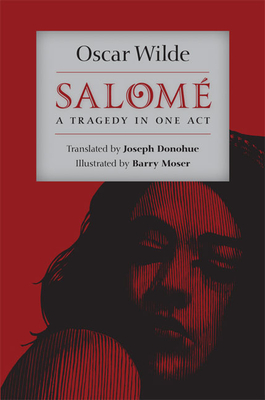 $27.95

Usually Ships in 1-5 Days
Description
---
Unique among his works, Oscar Wilde's play Salom (1893) was written originally in French. Joseph Donohue's new translation of the horrific New Testament story has recast Wilde's shockingly radical drama in the natural idiomatic language of our own day. Presenting a colloquial and spare American English version of Wilde's consciously stylized French, Donohue's approach gives full value to the Irish author's dark ruminations on evil and perversity in a world on the brink of a new, unsettling Christian dispensation.
The play was first translated into English in 1894 by Wilde's young friend Lord Alfred Douglas, but Wilde was far from pleased with the outcome. And yet Douglas's stilted, inaccurate version has somehow retained a long-standing place on the stage and in the study. Donohue's lucid vernacular transformation of Douglas's safe, thee-and-thou faux-biblical language has the quality of a startling modern-dress remounting of an overly familiar classic play. This new Salom is calculated to bring both readers and playgoers into close, disturbing confrontation with one of the most erotic and bloodiest sequences of testamentary lore.
Brilliantly complementing Donohue's unprecedented approach is a set of engravings by a master illustrator of our time. Barry Moser is an artist who speaks the blunt yet fluent language of present-day communication through the penetrating gestural vocabulary of the graphic arts. The resulting combination of words and images directly engages with Wilde's characters and their story, setting a bold new standard for the melding of literary and pictorial excellence. At the same time, it leads readers and audiences alike to rediscover perennially significant themes--of love, death, power, and individuality.
A signed and numbered limited edition is available for $100.00.
About the Author
---
Joseph Donohue is Professor Emeritus of English at the University of Massachusetts Amherst and coeditor of an award-winning critical edition of Wilde's The Importance of Being Earnest. Barry Moser is Irwin and Pauline Alper Professor of Art at Smith College and the illustrator of numerous works of literature, including celebrated editions of Alice's Adventures in Wonderland and The Holy Bible.