The Paris Novel (Hardcover)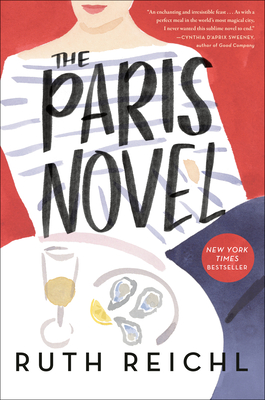 $29.00

Coming Soon - Available for Pre-Order Now
Description
---
Bestselling author Ruth Reichl takes readers on a food-, art-, and fashion-filled adventure through 1980s Paris in this dazzling, heartfelt novel, "an enchanting story about a woman's unexpectedly transformative journey" (Paula McLain).

Stella reached for an oyster, tipped her head, and tossed it back. It was cool and slippery, the flavor so briny it was like diving into the ocean. Oysters, she thought. Where have they been all my life?

When her estranged mother dies, Stella is left with an unusual inheritance: a one-way plane ticket and a note reading "Go to Paris." Stella is hardly cut out for adventure; a traumatic childhood has kept her confined to the strict routines of her comfort zone. But when her boss encourages her to take time off, Stella resigns herself to honoring her mother's last wishes.

Alone in a foreign city, Stella falls into old habits, living cautiously and frugally. Then she stumbles across a vintage store, where she tries on a fabulous Dior dress. The shopkeeper insists that this dress was meant for Stella and for the first time in her life Stella does something impulsive. She buys the dress—and embarks on an adventure.

Her first stop: the iconic brasserie Les Deux Magots, where Stella tastes her first oysters and then meets an octogenarian art collector who decides to take her under his wing. As Jules introduces Stella to a veritable who's who of the Paris literary, art, and culinary worlds, she begins to understand what it might mean to live a larger life.

As weeks—and many decadent meals—go by, Stella ends up living as a "tumbleweed" at famed bookstore Shakespeare & Company, uncovers a hundred-year-old mystery in a Manet painting, and discovers a passion for food that may be connected to her past. A feast for the senses, this novel is a testament to living deliciously, taking chances, and finding your true home.
About the Author
---
Ruth Reichl is the New York Times bestselling author of five memoirs, the novel Delicious!, and the cookbook My Kitchen Year. She was editor in chief of Gourmet magazine and previously served as restaurant critic for The New York Times, as well as food editor and restaurant critic for the Los Angeles Times. She has been honored with six James Beard Awards.
Praise For…
---
"This is nothing less than an absolute enchantment."—Nigella Lawson

"In Ruth Reichl's singularly capable hands, how could Paris be anything less than completely delicious? In this enchanting story about a woman's unexpectedly transformative journey to the City of Light, Reichl also has us rooting for and completely charmed by an entire cast of delightful characters—most particularly for Stella, who gradually discovers the larger, bolder life hidden just inside her timid, wary shell. You will devour this hopelessly and hopefully romantic novel."—Paula McLain, New York Times bestselling author of The Paris Wife

"Savor Paris through this story of a lost young woman who finds herself in a city she never knew she'd love, let alone finally feel at home in. It's all here: Les Deux Magots, Dior, L'Ami Louis, and Shakespeare and Company. And there is no better guide than Ruth Reichl."—Padma Lakshmi, New York Times bestselling author of Love, Loss, and What We Ate

"A splendid novel of family, food, and all things French, by one of the world's best food writers at the top of her game."—J. Ryan Stradal, author of Saturday Night at the Lakeside Supper Club

"What a joy to discover 1980s Paris alongside Stella, through fashion, food, and art, all wrapped up in a tantalizing mystery. This is a sumptuous book that I simply could not put down. C'est formidable!"—Julia Louis-Dreyfus

"I love everything Ruth Reichl writes, and not only is The Paris Novel no exception, it is, page after page, an enchanting and irresistible feast. What a joy it is to encounter Stella and follow her through the streets of Paris as she immerses herself in all the city has to offer, finally discovering how to claim her own desires. Much like the perfect meal in the world's most magical city, I never wanted this sublime novel to end."—Cynthia D'Aprix Sweeney, New York Times bestselling author of Good Company

"Sensual and sweeping, Ruth Reichl's The Paris Novel is for anyone who wants to believe that a great meal, a work of art, and an intimate conversation all have the ability to change your life. As Stella, our indomitable protagonist, slowly opens herself to discover a world of amazing food, art, and people, Reichl shows us the transformative power of pleasure."—Lillian Li, author of Number One Chinese Restaurant

"The Paris Novel is a movable feast through France in the 1980s, with stops in memorable bistros, markets, and Left Bank cafés, and an evocative tale of personal discovery and finding one's true calling in the most delicious city in the world."—David Lebovitz, author of Drinking French and My Paris Kitchen

"Ruth Reichl's The Paris Novel whisks us into an enchanting world full of Parisian pleasures, mouthwatering delights, and entangled mysteries. This is a journey of discovery and transformation that probes the fascinating marrow of life: food, family, beauty, and art. The Paris Novel is a gem, and Reichl a charming and delightful guide."—Bianca Bosker, author of Cork Dork and Get the Picture