Your Baby's First Year: Fourth Edition (Mass Market)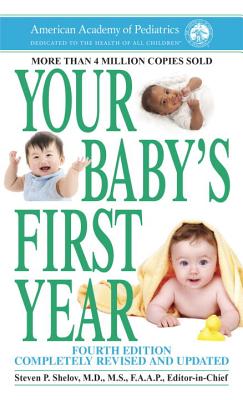 Description
---
The one guide pediatricians most recommend—now completely revised and updated! 

From the American Academy of Pediatrics, the nation's most trusted name in child care, comes Your Baby's First Year, the definitive all-in-one resource that provides authoritative advice on every aspect of infant care. Featuring new and expanded content, including the latest reports on cutting-edge research into early brain development, the fully illustrated fourth edition of Your Baby's First Year includes
 
• Guidelines for prenatal care, with spotlights on maternal nutrition, exercise, and screening tests during pregnancy
• Growth and developmental milestones through the first twelve months of a child's life, including physical, emotional, and cognitive development
• An updated chapter on developmental disabilities
• A complete health encyclopedia covering injuries, illnesses, and congenital diseases
• Breastfeeding discussion, including its benefits, techniques, and challenges, as well as nutritional needs and vitamin/iron supplementation
• Recommendations for choosing child care programs
• Updated safety standards: the very latest AAP recommendations, including immunizations, childproofing, and toy safety
• Safety checks for home, including bathing, preventing drowning, poisoning, choking, burns, and falls
• Car safety, including information on car safety seats
• And much more
 
Comprehensive, reassuring, and up-to-date, Your Baby's First Year is an indispensable guide for parents everywhere.
About the Author
---
Steven P. Shelov, M.D., M.S., F.A.A.P., pioneered and developed several of the parenting publications for the American Academy of Pediatrics, including Caring for Your Baby and Young Child, The First Year of Life, and A Guide to Your Child's Symptoms, now published as The Big Book of Symptoms. In 2002, he was presented with the Lifetime Achievement in Education Award by the AAP, its highest award for pediatric education. In 2009, Dr. Shelov received the Clifford G. Grulee Award, recognizing his outstanding service to the AAP. He is currently Professor of Pediatrics at the Stony Brook School of Medicine and Associate Dean for Medical Student Education at the Winthrop University Hospital Clinical Campus of Stony Brook.
 
The American Academy of Pediatrics is an organization of 62,000 primary care pediatricians, pediatric medical subspecialists, and pediatric specialists dedicated to the health, safety, and well-being of infants, children, adolescents, and young adults.