The Story of Forgetting: A Novel (Paperback)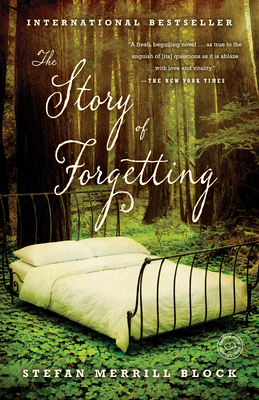 for information about purchasing this book, please contact orders@bookpassage.com
Description
---
Abel Haggard is an elderly hunchback who haunts the remnants of his family's farm in the encroaching shadow of the Dallas suburbs, adrift in recollections of those he loved and lost long ago. Hundreds of miles to the south, in Austin, Seth Waller is a teenage "Master of Nothingness"—a prime specimen of that gangly breed of adolescent that vanishes in a puff of sarcasm at the slightest threat of human contact. When his mother is diagnosed with a rare disease, Seth sets out on a quest to find her lost relatives and uncover the truth of her genetic history. Though neither knows of the other's existence, Abel and Seth are linked by a dual legacy: the disease that destroys the memories of those they love, and the story of Isidora—a land without memory where nothing is ever possessed, so nothing can be lost.

Blending myth, science, and dazzling storytelling, Stefan Merrill Block's extraordinary first novel illuminates the hard-learned truth that only through the loss of what we consider precious can we understand the value of what remains.
About the Author
---
Stefan Merrill Block was born in 1982 and grew up in Plano, Texas. He graduated from Washington University in St. Louis in 2004. The Story of Forgetting is his first novel. He lives in Brooklyn.
Praise For…
---
''A novel about Alzheimer's that makes me desperate to know what Block will do next.''—Jodi Picoult, author of My Sister's Keeper

"A fresh, beguiling novel . . . as true to the anguish of [its] questions as it is ablaze with love and vitality."—New York Times

"The Story of Forgetting manages to feel big and small in perfect proportion, at once intimate and universal. Mr. Block has made something very beautiful out of something very ugly: a disease that steals people's lives from them . . . It's a book about love. "—New York Observer

"Blisteringly good . . . The redemptive qualities of storytelling are gloriously displayed in this astonishing first novel."—Financial Times, UK

"[An] astounding debut . . . compulsive and transporting."—Publishers Weekly, starred review

"Magical and scientific . . . [Block] is a talent to celebrate and remember."—USA Today

"Savor the moment because this is a debut worth remembering."—Alan Cheuse, contributor to NPR's All Things Considered

"A deeply felt novel . . . The Story of Forgetting offers us both solace and illumination. Stefan Merrill Block possesses a singular mix of imagination, compassion, and scientific understanding; he is equally gifted at spinning fantastic tales as he is at bringing genetic histories to vivid life."—Sarah Shun-lien Bynum, author of Madeleine Is Sleeping

"An exhilarating novel of formidable vision…At its center, an adolescent boy's quest to solve the riddle of his family's curse and an old man's extraordinary tale of wrong love careen headlong toward each other with urgency and wonder. A magnificent debut."–Akhil Sharma, PEN/Hemingway Award-winning author of An Obedient Father

"Block weaves together his disparate narrative strands with a deft hand, tingeing his tale with a lovely touch of the fantastic."—Entertainment Weekly

"Fast-moving and raw . . . [a] tale with honesty and charm."—Slate

"Beautiful and uplifting . . . an engrossing, well-written exploration of what it means to remember–and forget."—Wichita Eagle