A Bull in China: Investing Profitably in the World's Greatest Market (Paperback)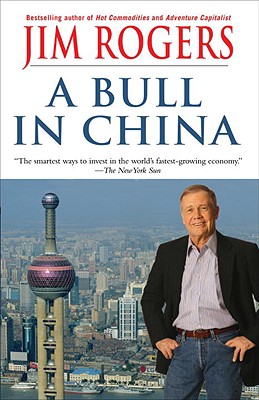 for information about purchasing this book, please contact orders@bookpassage.com
Description
---
If the twentieth century was the American century, then the twenty-first century belongs to China. According to the one and only Jim Rogers, who's been tracking the Chinese economy since he first went to China in 1984, any investor can get in on the ground floor of "the greatest economic boom since England's Industrial Revolution." But the time to act is now.

In A Bull in China, you'll learn which industries offer the newest and best opportunities, from power, energy, and agriculture to tourism, water, and infrastructure. Rogers demystifies the state policies that are driving earnings and innovation, takes the intimidation factor out of the A-shares, B-shares, and ADRs of Chinese offerings, and profiles "Red Chip" companies, such as Yantai Changyu, China's largest winemaker, which sells a "Healthy Liquor" line mixed with herbal medicines. Plus, if you want to export something to China yourself–or even buy land there–Rogers tells you the steps you need to take.

No other book–and no other author–can better help you benefit from the new Chinese revolution. Jim Rogers shows you how to make the "amazing energy, potential, and entrepreneurial spirit of a billion people" work for you.
About the Author
---
Jim Rogers co-founded the Quantum Fund and retired at age thirty-seven. Since then, he has served as a sometime professor of finance at Columbia University's business school, and as a media commentator worldwide. He is the author of Hot Commodities, Adventure Capitalist, and Investment Biker. He lives in New York City. His website is www.jimrogers.com.
Praise For…
---
"The smartest ways to invest in the world's fastest-growing economy."
–The New York Sun

"[Jim Rogers] presents the case that this truly is going to be China's century and that anyone who doesn't take advantage may be taking a big risk."
–The Boston Globe

"Rogers races through the promising and profitable business opportunities China has to offer–in a manner and prose far superior to any other current financial guru-writer's."
–Booklist