Tom Jones (Modern Library Classics) (Paperback)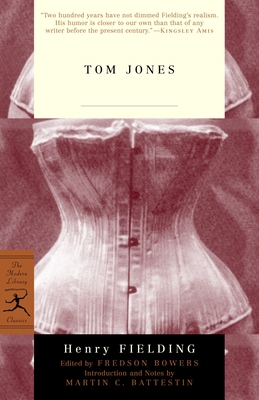 for information about purchasing this book, please contact orders@bookpassage.com
Description
---
Tom, a foundling, is discovered one evening by the benevolent Squire Allworthy and his sister Bridget and brought up as a son in their household; when his sexual escapades and general misbehavior lead them to banish him, he sets out in search of both his fortune and his true identity. Amorous, high-spirited, and filled with what Fielding called "the glorious lust of doing good," but with a tendency toward dissolution, Tom Jones is one of the first characters in English fiction whose human virtues and vices are realistically depicted. This edition is set from the text of the Wesleyan Edition of the Works of Henry Fielding.
About the Author
---
Fredson Bowers was a professor of literature at the University of Virginia for more than forty years and a preeminent textual critic.

Martin C. Battestin is the William R. Kenan, Jr., Professor of English at the University of Virginia and a leading scholar on Henry Fielding. He lives in Charlottesville, Virginia.
Praise For…
---
"Two hundred years have not dimmed Fielding's realism. His humor is closer to our own than that of any writer before the present century."—Kingsley Amis