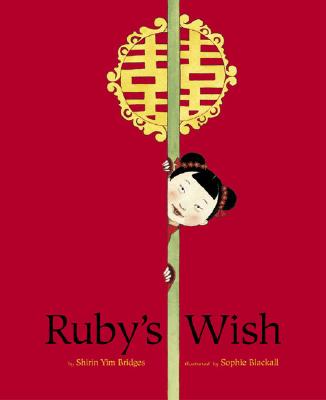 $15.99
Email or call for price
Description
---
Ruby is unlike most little girls in old China. Instead of aspiring to get married, Ruby is determined to attend university when she grows up, just like the boys in her family. Based upon the inspirational story of the author's grandmother and accompanied by richly detailed illustrations, Ruby's Wish is an engaging portrait of a young girl who strives for more and a family who rewards her hard work and courage.
About the Author
---
Shirin Yim Bridges comes from a family of writers and artists. She has lived in many countries around the world and now lives in Northern California. This is her first book for children.

Sophie Blackall has illustrated two books, A Giraffe for France by Leith Hillard and 20 Party Tricks published by Chronicle Books. She lives in New York with her husband and two small children. Just like Ruby, her favorite color is red.
Praise For…
---
"Bridges...handles the conflict between Chinese tradition and young Ruby's longing to attend university with grace and compassion....This understated tale takes Ruby's predicament seriously while still celebrating her love of learning and her joyful personality."
Publishers Weekly
(starred review)
"As 'red is the color of celebration' in China, Ruby should bring joy to many young readers. A lovely read-aloud with illustrations to linger over." School Library Journal
"Ruby's determined character will capture the audience's imagination." The Bulletin of the Center for Children's Books
"...[A] tale of one little girls's dream to become more than was traditionally possible." Kirkus Reviews
"Told in a concise, straightforward style, the narrative provides just enough background for young children." Booklist
"Bridges' lively storytelling turns what could have been just another family story about a feminist in to a gem." San Francisco Chronicle