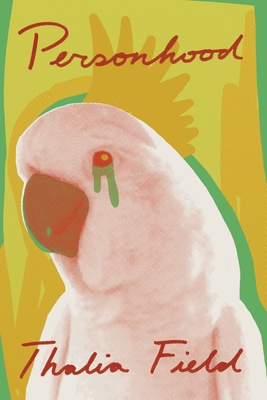 $16.95

Usually Ships in 1-5 Days
Description
---
A remarkable and moving cross-genre work about animal rights by one of America's foremost experimental writers
Whether investigating refugee parrots, indentured elephants, the pathetic fallacy, or the revolving absurdity of the human role in the "invasive species crisis,"
Personhood
reveals how the unmistakable problem between humans and our nonhuman relatives is too often the derangement of our narratives and the resulting lack of situational awareness. Building on her previous collection,
Bird Lovers, Backyard
, Thalia Field's essayistic investigations invite us on a humorous, heartbroken journey into how people attempt to control the fragile complexities of a shared planet. The lived experiences of animals, and other historical actors, provide unique literary-ecological responses to the exigencies of injustice and to our delusions of special status.
About the Author
---
Thalia Field is Adele Kellenberg Seaver Professor of Creative Writing at Brown University. Her most recent novel is Experimental Animals (A Reality Fiction) from Solid Objects Press. Her three New Directions books are Point and Line (2000), Incarnate: Story Material (2004), and Bird Lovers, Backyard (2010).
Praise For…
---
Field's frequently shifting scenes evoke Alice Notley, Anne Carson, and James Joyce.
— Publishers Weekly

Thalia Field's curiosity and probe are infectious, tantalizing, irrepressible. She is one of our most startling, original younger writers.
— Anne Waldman

Between the inward tension of the point and the outward push of the line, Thalia Field maps a force field of relations, power games, shifting configurations, in a language both cool and intense, and with a surveyor's precision.
— Rosmarie Waldrop

A hybrid of essayistic fragments and poetic lines exploring the toxic relationship between humans and the animal world by way of myth, metaphor and science: 'the forests have changed, the temperatures, / whole species gone north or south.'
— New York Times

Field draws from a variety of sources — scientific, historical, philosophical — to create a kind of text collage that nonetheless moves from point to point. Her sense of humor is witty and snarky....Field lands many a critical body blow to speciesism.
— Carl Little - Hyperallergic

Thalia Field does not settle on final answers but draws us into inquiries that unsettle our definitions. She is ignited by nature and the wild; she does not recoil from repelling us with factual talk; her book intends to move us to thoughtful action by destabilizing us with art.
— Anakana Schofield - Bookpost