The Last Wolf & Herman (Hardcover)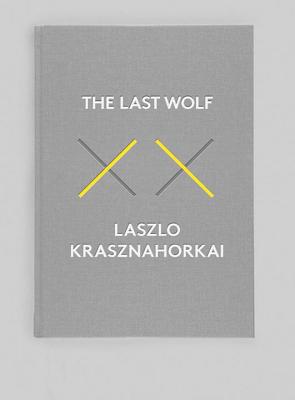 Description
---
Two short masterworks by the most recent winner of the Man Booker International Prize: here, in miniature, is every reason why he won
The Last Wolf, translated by George Szirtes, features a classic, obsessed Krasznahorkai narrator, a man hired to write (by mistake, by a glitch of fate) the true tale of the last wolf of Extremadura, a barren stretch of Spain. This miserable experience (being mistaken for another, dragged about a cold foreign place, appalled by a species' end) is narrated—all in a single sentence—as a sad looping tale, a howl more or less, in a dreary wintry Berlin bar to a patently bored bartender.
The Last Wolf is Krasznahorkai in a maddening nutshell—with the narrator trapped in his own experience (having internalized the extermination of the last creature of its kind and "locked Extremadura in the depths of his own cold, empty, hollow heart")—enfolding the reader in the exact same sort of entrapment to and beyond the end, with its first full-stop period of the book.
Herman, "a peerless virtuoso of trapping who guards the splendid mysteries of an ancient craft gradually sinking into permanent oblivion," is asked to clear a forest's last "noxious beasts." In Herman I: the Game Warden, he begins with great zeal, although in time he "suspects that maybe he was 'on the wrong scent.'" Herman switches sides, deciding to track entirely new game...
In Herman II: The Death of a Craft, the same situation is viewed by strange visitors to the region. Hyper-sexualized aristocratic officers on a very extended leave are enjoying a saturnalia with a bevy of beauties in the town nearest the forest. With a sense of effete irony, they interrupt their orgies to pitch in with the manhunt of poor Herman, and in the end, "only we are left to relish the magic bouquet of this escapade..." Translated by John Batki. 
About the Author
---
The winner of the 2019 National Book Award for Translated Literature and the 2015 Man Booker International Prize for lifetime achievement, László Krasznahorkai was born in Gyula, Hungary.
John Batki
is a kilimologist, writer, translator, and visual artist. He was born in Hungary and has lived in the United States since age fourteen.
George Szirtes
(b. 1948) is an award-winning poet and translator who settled in England after his family fled the Hungarian Uprising of 1956. His translation of
Satantango
by László Krasznahorkai won the 2013 Best Translated Book Award.
Praise For…
---
La´szlo´ Krasznahorkai is a visionary writer of extraordinary intensity and vocal range who captures the texture of present-day existence in scenes that are terrifying, strange, appallingly comic, and often shatteringly beautiful: magnificent works of deep imagination and complex passions, in which the human comedy verges painfully onto transcendence.
— Marina Warner - Announcing the 2015 Man Booker International Prize

Don't underestimate the pair; they might look flimsy enough to finish during a long commute but they'll haunt you—or perhaps hunt you—long after the final full-stop has been left behind.
— Electric Literature

Krasznahorkai's method is to examine reality "to the point of madness" and he does so with majestic style and black comedy.
— Luke Brown - Financial Times

Slow, relentless forces permeate the world of László Krasznahorkai; his characters are subject to glacial currents that bear them ever onwards, an inch at a time, toward a horizon they constantly imagine but never actually behold. In so doing, they cry, or laugh, or cry laughing, or carry out the timeworn repetitions that make a life, until the moment they come up against the horizon.
— Camille Gajewski - Music & Literature

Rather than the stoic asceticism of Kafka's longer stories, these are absurd as they are thrilling, with the richest possible representation of figures backing themselves into corners and staying there, of contemplating the self as absurd.
— Sydney Morning Herald

Wild and wonderful.
— Adam Thirlwell - The Guardian

Krasznahorkai shows himself to be a writer of immense talent, capable of creating stories that are both unforgettably visceral and beautiful on the page.
— Claire Kohda Hazelton - The Guardian

Hungarian maestro László Krasznahorkai is laconic and shrewd, as
practical as he is existential, capable of wresting huge laughs as well
as immense profundity from the commonplace and the way in which we
choose to respond to it.
— Eileen Battersby - The Irish Times

There are three stages of reading Laszlo Krasznahorkai's The Last Wolf, a 76-page, one-sentence-long novel: disbelief, panic and exhilaration.
— Nicole Lamy - The New York Times

One of the most profoundly unsettling experiences I have had as a reader.
— James Wood - The New Yorker

Together, 'The Last Wolf' and 'Herman' raise a set of spiritual
questions that affirms their author as one of the most important — and
eccentric — writers working today.
— Hari Kunzru - The Spectator

Krasznahorkai is alone among European novelists now in his intensity and originality. One of the most mysterious artists now at work.
— Colm Tóibín