Civilizing the Machine: Technology and Republican Values in America, 1776-1900 (Paperback)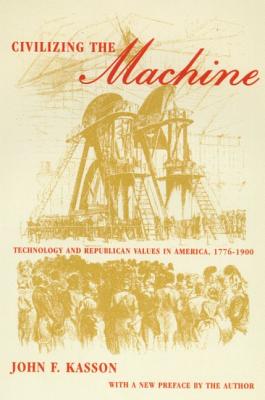 $22.00

Usually Ships in 1-5 Days
Description
---
In Civilizing the Machine, John F. Kasson asks how new technologies have affected this drive for a republican civilization-and the question is as vital now as ever.
A major theme of American history has always been the desire to achieve a genuinely republican way of life that values liberty, order, and virtue. Civilizing the Machine was an innovative and compelling work when it first appeared two decades ago: Kasson's analysis of the technical developments in transportation, communication, and manufacture from the Revolution to the of the nineteenth century showed how technologies were dealt with in sources as diverse as the debates of Hamilton and Jefferson; the factories of Lowell, Massachusetts; the writings of Ralph Waldo Emerson; the prints of Currier & Ives; and the utopian and dystopian novels of Howells and Twain.
Kasson's profound, wide-ranging inquiry into this central issue in American history is now available again with a new Introduction by the author.
About the Author
---
John F. Kasson, who teaches history and American studies at the University of North Carolina at Chapel Hill, is the author of Houdini, Tarzan and the Perfect Man; Amusing the Million; Rudeness and Civility; and Civilizing the Machine.
Praise For…
---
"A tour de force when it first appeared nearly twenty-five years ago, John Kasson's Civilizing the Machine has become a classic, and it remains required reading for anyone interested in the larger implications of the industrial revolution in America. A brilliant, pathbreaking work." —Merrit Roe Smith, Massachusettes Institute of Technology
"A first-rate contribution to our understanding of one of the deepest, most troubling issues in American life: Is the machine our servant or our master?" —Alan Trachtenberg, Yale University
"This admirably balanced and judicious book is invaluable for understanding the initial phase of America's love/hate relationship with industrial technology." —Leo Marx, Massachusettes Institute of Technology
"A brillant and original achievement." —Lewis Mumford
"A provocative and important book. In an America brimming once again with technological enthusiasm and with new questions about republican values, it seems especially appropiate to consider the ways which technological dreams and American society have interacted throughout American history. More than any other book, Civilizing the Machine shows how these issues shaped American thought and culture." —Steven Lubar, National Museum of American History
"A brilliant work of cultural history and criticism, now a classic." —Thomas Bender
"A refreshing and compelling examination." —Neil Harris, The New Republic