Celebrity Nation: How America Evolved into a Culture of Fans and Followers (Hardcover)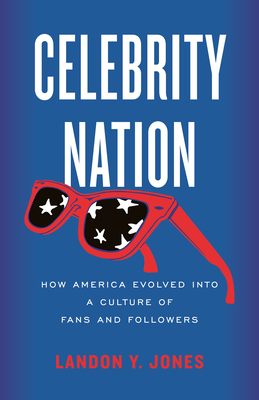 $26.95

Usually Ships in 1-5 Days
Description
---
A former People magazine editor reveals how our cult of celebrity has shaped our politics, our culture, and our personal lives—for better or worse

From the writer and editor who coined the term "baby boomer" comes Celebrity Nation, an exploration into how and why fame no longer stems only from heroic achievements but from the number of "likes" and shares—and what this change means for American culture. Landon Jones—who spent decades in "celebrityland" only to emerge, like Alice, blinking in the sunlight—brings a personal and first-person perspective on fame and its dark underbelly, complicated even further by the arrival of the internet and social media.

Jones draws on his experience as the former managing editor of People magazine to bolster his account with profiles of celebrities he knew personally, ranging from Malcolm X to Princess Diana, as well as observations about contemporary social media stars like Kim Kardashian and computer-generated macro-influencer Miquela, a self-proclaimed "19-year-old Robot living in LA." In analyzing the stories of over 75 celebrities, spanning decades and industries, Jones shows how celebrity has been wielded as a weapon of mass distraction to spawn narcissism, harm, and loneliness.

And yet, in these stories we also see a path forward. Jones highlights luminaries like Nobel Peace prize winner Maria Ressa and lauded environmental activist Greta Thunberg, who have effected meaningful change not by glorifying themselves but by turning to their communities for action. A lively analysis of celebrity culture's impact on nearly every facet of our lives, Celebrity Nation helps us to recognize how the apparatus of fame operates.
About the Author
---
Landon Y. (Lanny) Jones is an editor and author. He is the former managing editor of People and Money magazines and the author of William Clark and the Shaping of the West (2004), a biography of the co-leader of the Lewis and Clark Expedition. Jones also edited a selection of the expedition journals, The Essential Lewis and Clark (2000). In 1980, he published Great Expectations: America and the Baby Boom Generation, which coined the phrase "baby-boomer" and was a finalist for the American Book Award in Nonfiction. In 2015, he received the Henry R. Luce Award for Lifetime Achievement from Time Inc. He is from St. Louis, Missouri, and currently resides in Princeton, New Jersey.
Praise For…
---
"A disquieting, well-researched exploration of the celebrity phenomenon and its consequences for our society."
—Kirkus Reviews

"Jones is an astute chronicler of celebrity culture."
—Publishers Weekly

"A well-researched, astute examination of the blurred lines between heroes and celebrities. The book's narrative and plot points are immensely readable."
—Library Journal

"Others have—and will—explore this topic in more depth, but Jones's clear-eyed, often rueful take on the phenomenon is an excellent starting point."
—Shelf Awareness

"A triumph of human insight into an all-too-often inhuman institution that can become a mortal threat to celebrities themselves."
—The Milken Review

"An irresistibly readable history and critique of our vertiginous celebrity culture."
—Joyce Carol Oates, author of Blonde

"As one of the founding editors at People, Lanny Jones helped chronicle and invent the rise of celebrity culture. In this fun and insightful book, he explores the difference between celebrities and heroes, a distinction that is more important than ever in our age of Kardashians and Trumps."
—Walter Isaacson, author of Steve Jobs

"As the editor of People magazine during its early glory days, Landon Jones was present at the creation of the Celebrity Nation. He brings a sharp eye and deep understanding—as well as warmth and humor—to exploring a phenomenon that once seemed like an entertaining diversion but now threatens to consume us all."
—Evan Thomas, author of First: Sandra Day O'Connor and Road to Surrender

"The final arbiter of all matters celebrity in America."
—former columnist Frank Rich, New York Times

"As a former editor of People magazine, Landon Jones is an expert on the rise of celebrity culture in this country and its troubling social costs. His mesmerizing book, revealing in unsettling detail how America's addiction to celebrity has heightened its political and class divisions and weakened community and family ties, is a must-read."
—Lynne Olson, author of Empress of the Nile: The Daredevil Archaeologist Who Saved Egypt's Ancient Temples from Destruction