Asian American Histories of the United States (ReVisioning History #7) (Hardcover)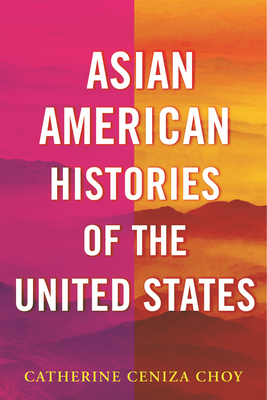 Description
---
An inclusive and landmark history, emphasizing how essential Asian American experiences are to any understanding of US history

Original and expansive, Asian American Histories of the United States is a nearly 200-year history of Asian migration, labor, and community formation in the US. Reckoning with the onset of the COVID-19 pandemic and the surge in anti-Asian hate and violence, award-winning historian Catherine Ceniza Choy presents an urgent social history of the fastest growing group of Americans. The book features the lived experiences and diverse voices of immigrants, refugees, US-born Asian Americans, multiracial Americans, and workers from industries spanning agriculture to healthcare.

Despite significant Asian American breakthroughs in American politics, arts, and popular culture in the twenty-first century, a profound lack of understanding of Asian American history permeates American culture. Choy traces how anti-Asian violence and its intersection with misogyny and other forms of hatred, the erasure of Asian American experiences and contributions, and Asian American resistance to what has been omitted are prominent themes in Asian American history. This ambitious book is fundamental to understanding the American experience and its existential crises of the early twenty-first century.
About the Author
---
Catherine Ceniza Choy is professor of ethnic studies at the University of California, Berkeley. Before that, she was an assistant professor of American studies at the University of Minnesota, Twin Cities. She is the author of the books Empire of Care and Global Families and the co-editor of the anthology Gendering the Trans-Pacific World. An engaged public scholar, she has been interviewed in many media outlets, including ABC 2020, The Atlantic, CNN, the Los Angeles Times, NBC News, the New York Times, ProPublica, the San Francisco Chronicle, Time, and Vox. Connect with her on twitter @CCenizaChoy.
Praise For…
---
"An impressive new work about how major moments in Asian American history continue to influence the modern world . . . . An empathetic and detailed recounting of Asian American histories rarely found in textbooks."
—Kirkus Reviews, Starred Review

"Sharply drawn profiles of individual Asian Americans add depth to Choy's broad overview and bring historic events to dramatic life. The result is an essential reconsideration of American history."
—Publishers Weekly

"An essential and illuminating resource."
—Booklist

"...not only does [Choy] provide important and well-researched historical information, but she also connects the past to the present so it's readily apparent how the past, both recent and distant, continues to be relevant today."
—Book Riot

"Choy grapples resourcefully and brilliantly with the overriding question of just how and why in the current time it is that Asian Americans find themselves, notwithstanding their lengthy history, the target of so much hate in this country."
—Nichi Bei Weekly

"Choy's volume is artful, strident, meaningful, and highly readable, with pressing, contemporary, practically torn-from-the-headlines relevance, remarkable for its thoughtful blend of affecting individual stories, and also remarkable as a heartfelt lookback at our heterogenous 'origin stories' and 'stories in progress...'"
—Ravi Chandra, East Wind Ezine

"Written with love and respect for our communities, this book illuminates histories as diverse as Asian America itself."
—Grace M. Cho, author of National Book Award–finalist Tastes Like War

"I promise you, this is unlike any history you'll ever read—a book only Catherine Ceniza Choy could have written."
—Anthony Christian Ocampo, author of The Latinos of Asia

"A brilliant, perceptive historian."
—Robin D. G. Kelley, author of Freedom Dreams

"Professor Choy offers an evocative meditation on the histories of Asian Americans, histories that powerfully connect our past with our present."
—Vicki L. Ruiz, Distinguished Professor Emerita of History and Chicano/Latino Studies, University of California, Irvine

"A powerful and effective nonlinear account of how we came to the present moment."
—Beth Lew-Williams, author of The Chinese Must Go

"Asian American Histories of the United States inspires us to link personal biographies with global histories and tragic pasts with hope-filled futures."
—Theodore S. Gonzalves, twenty-first president of the Association for Asian American Studies

"A comprehensive, informative, and insightful work."
—Yén Lê Espiritu, Distinguished Professor of Ethnic Studies, University of California, San Diego

"With anti-Asian bigotry accelerating in the United States, often violently, this important and beautifully written book is exactly the knowledge base and guide needed to educate the public."
—Roxanne Dunbar-Ortiz, author of An Indigenous Peoples' History of the United States

"Exquisitely geared to meet the urgent demands of our time."
—Franklin S. Odo, John Woodruff Simpson Lecturer of American Studies, Amherst College

"If you think you 'know' American history, this book will be a revelation."
—Gayatri Gopinath, author of Unruly Vision

"This book is a monument to the complexity of history and the fullness of historical prose."
—Ibram X. Kendi, National Book Award–winning author of Stamped from the Beginning