The Stars in Our Pockets: Getting Lost and Sometimes Found in the Digital Age (Paperback)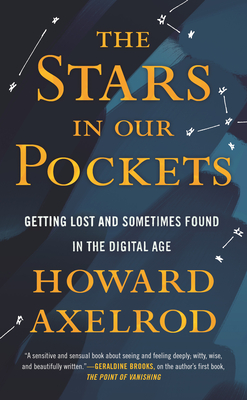 $14.95
Email or call for price
Description
---
"Beautiful, elegantly expressed" meditations on the 'inner climate change' we experience as we shift between our offline and online lives—for fans of Oliver Sacks and David Foster Wallace's This Is Water (New York Review of Books).

What shapes our sense of place, our sense of time, and our memory? How is technology changing the way we make sense of the world and of ourselves?

Our screens offer us connection, especially now in the wake of the COVID-19 pandemic, but there are certain depths of connection our screens can't offer—to ourselves, to the natural world, and to each other. In this personal exploration of digital life's impact on how we see the world, Howard Axelrod marshals science, philosophy, art criticism, pop culture, and his own experience of returning from two years of living in solitude in northern Vermont.

The Stars in Our Pockets is a timely reminder of the world around us and the worlds within us—and how, as alienated as we may sometimes feel, they were made for each other.
About the Author
---
Howard Axelrod is the author of The Point of Vanishing: A Memoir of Two Years in Solitude, named one of the best books of 2015 by Slate, the Chicago Tribune, and Entropy Magazine, and one of the best memoirs of 2015 by Library Journal. His essays have appeared in the New York Times Magazine, O Magazine, Politico, Salon, the Virginia Quarterly Review, the Boston Globe, and the Paris Review. He has taught at Harvard, the University of Arizona, and is currently the director of the Creative Writing Program at Loyola University in Chicago. Connect with him at howardaxelrod.com.
Praise For…
---
"The Stars in Our Pockets isn't really a memoir or a polemic but a sequence of meditations on what we risk losing as we offer phones ever more control over our lives…beautiful, elegantly expressed, Axelrod manag[es] to communicate both the strength of his conviction and the difficulty of persuading others to share it."
—The New York Review of Books

"Axelrod makes a compelling argument for drawing a new kind of map, one that helps us as we search and stumble between the borderlines of our digital and physical worlds . . . he meditates on the ways our screens are changing our relationship to time, space, and each other, while dipping into philosophy, astronomy, neuroscience, and poetry. Like his memoir, it's an intimate book; he discusses big themes, big ideas, but the feel is as though you are leaning in close across a table in a dimly lit space."
—The Boston Globe

"If we imagine, with wild configuration, Thoreau as one parenthesis, Axelrod could be the other, the two holding decades of social evolution between them. Thoreau appeared when America was still young, a seer who could caution how the newly invented telegraph could alter our natural sense of time and space; Axelrod shows us what that alteration now looks like. He makes clear what our new condition portends, and also makes clear, by his own example, that those former ways fronting the world are not yet completely lost. These are the stars in our pockets, the constellations that have guided our navigation for so long."
—Sven Birkerts, AGNI Magazine

"Poetic, ruminative, and never preachy, this book is a game changer for readers who yearn to see beyond 240 characters."
—Booklist, Starred Review

"A provocative inquiry . . . Refreshingly, Axelrod doesn't deliver a screed against cybertechnology but rather a series of philosophical meditations on the consequences of connecting ourselves digitally to the point where the realm of the screen is a world unto itself."
—Kirkus Reviews, Starred Review

"Axelrod provides powerful arguments against today's all-encompassing digital world in this concise and insightful meditation."
—Publishers Weekly

"Timely, essential, generous...Put down your phone and read this book. Maybe even get your friends to read it, too, and then have the kinds of conversations about it that can't be had on social media."
—Chicago Tribune

Praise for The Point of Vanishing
"What makes his book completely mesmerizing—besides his lovely prose, that is—is how exquisitely it balances between the poles of revelation and disintegration. At times, in the depths of winter, when Axelrod becomes preoccupied with observing the changing color of shadows on the snow, he seems on the verge of a transcendent understanding of how to exist entirely in the present."
—Slate Book Review

"Mr. Axelrod is clearly a gifted writer . . . The best thing about Mr. Axelrod's frequently absorbing book is how idiosyncratic it feels; he is a unique presence on the page."
—New York Times Daily Review