Everything Is Miscellaneous: The Power of the New Digital Disorder (Paperback)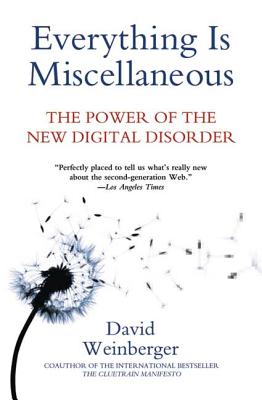 $17.99

Usually Ships in 1-5 Days
Description
---
"Perfectly placed to tell us what's really new about [the] second-generation Web."—Los Angeles Times

Business visionary and bestselling author David Weinberger charts how as business, politics, science, and media move online, the rules of the physical world—in which everything has a place—are upended. In the digital world, everything has its places, with transformative effects:

• Information is now a social asset and should be made public, for anyone to link, organize, and make more valuable.

• There's no such thing as "too much" information. More information gives people the hooks to find what they need.

• Messiness is a digital virtue, leading to new ideas, efficiency, and social knowledge.

• Authorities are less important than buddies. Rather than relying on businesses or reviews for product information, customers trust people like themselves.

With the shift to digital music standing as the model for the future in virtually every industry, Everything Is Miscellaneous shows how anyone can reap rewards from the rise of digital knowledge.
About the Author
---
David Weinberger is the co-author of the international bestseller The Cluetrain Manifesto and the author of Small Pieces Loosely Joined. A fellow at Harvard University, Weinberger writes for such publications as Wired and the Harvard Business Review and is a frequent commentator for NPR's All Things Considered. In 1994, he founded Evident Marketing, a strategic marketing firm on technology issues. He lives in Boston.
Praise For…
---
"The world is messy, like it or not, and it's only going to get messier as the Web destroys rules and rule-makers. You can either complain about the chaos and wish for the good old days of order, or you can buy this book and understand why delirious disorder will soon make us all smarter." —Chris Anderson, author of The Long Tail

"David Weinberger attacks the complexity of the real world, not by making it simple, but by making it clear. Once he explains how things can be in more than one place at a time--and make sense--you'll never look at a humble index card the same way again." —Esther Dyson

"From how information is organised, to the nature of knowledge and how meaning is determined, this book is a profound contribution to understanding the impact of the digital revolution." —Richard Sambrook, director, BBC Global News

"Everything Is Miscellaneous is a rare and mesmerizing mix: one the one hand, it's an essential guide to latest information age trends, one that will be extremely useful for businesses and consumers alike. But the book is much more than that as well: it's a probing and profound exploration of how we create meaning in the world." —Steven Johnson, author of The Ghost Map and Everything Bad Is Good For You

"Just when I thought I understood the world, David Weinberger turns it upside down--and rightside up--again. Everything Is Miscellaneous explains the radical changes happening in digital information--and therefore in society as a whole." —Jimmy Wales, founder of Wikipedia and chair, Wikia.com