America Against the World: How We Are Different and Why We Are Disliked (Paperback)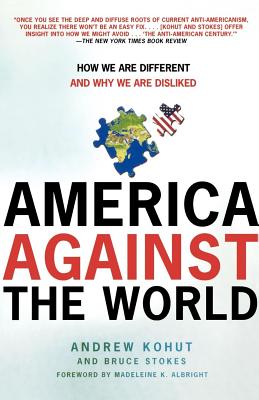 $22.99

Usually Ships in 1-5 Days
Description
---
"Once you see the deep and diffuse roots of current anti-Americanism, you realize there won't be an easy fix."—The New York Times Book Review

The rise of anti-Americanism is the most pressing challenge facing us. In America Against the World, Pew Research Center president Andrew Kohut and Bruce Stokes consider the surprising findings of Pew's unprecedented survey of world opinion to understand why the world has turned against America: where once we were considered the champion of democracy, we are now seen as a militant hyperpower.

The answer: Americans' go-it-alone attitudes have pushed the world away. From our business endeavors abroad to the Bush administration's preemptive war policy, exceptional individualism—in particular, our belief in personal responsibility and our unclouded optimism—have encouraged the world to view the United States as a bully and a threat. Former secretary of state Madeleine K. Albright argues in her foreword that we cannot stop the spread of anti-Americanism without truly understanding who we are. America Against the World provides the insights to take that step.
About the Author
---
Andrew Kohut (1942-2015) was the president of the Pew Research Center for the People and the Press, the leading nonpartisan polling organization in America, from 2004-2013. Kohut was a frequent commentator for PBS and NPR and a regular essayist for The New York Times. He lived in Washington, D.C.

Bruce Stokes is the international economics columnist for National Journal and a consultant to the Pew Global Attitudes Project. He lives in Washington, D.C.
Praise For…
---
"If you've been wondering why the rest of the world often misunderstands, dislikes, and even fears the United States, this book offers convincing answers. Andrew Kohut, Bruce Stokes, and their colleagues have done impressive original research and produced truly arresting insights." —Doyle McManus, Washington Bureau Chief, Los Angeles Times

"At a time when America needs international support more than ever, Andrew Kohut and Bruce Stokes explain why the United States is distinct and sometimes disliked. Rather than rely on conjecture, they use international surveys to answer these critical questions. Anyone worried about America's place in the world will find new evidence and unconventional answers in this well-written book." —Joseph S. Nye, Jr., author of Soft Power: The Means to Success in World Politics

"By holding up two mirrors--how we Americans look to ourselves and how we look to others--Andrew Kohut and Bruce Stokes hit us with a reality full of surprises, comforting and unsettling insights, and a full meal for policymakers and the rest of us to digest or pay the consequences. Very carefully and fairly analyzed, this is a truly important book." —Leslie H. Gelb, president emeritus, Council on Foreign Relations