A Banquet for Hungry Ghosts: A Collection of Deliciously Frightening Tales (Hardcover)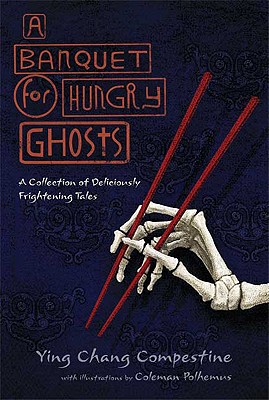 $19.99
Email or call for price
Description
---
According to Chinese tradition, those who die hungry or unjustly come back to haunt the living. Some are appeased with food. But not all ghosts are successfully mollified. In this chilling collection of stories, Ying Chang Compestine takes readers on a journey through time and across different parts of China. From the building of the GreatWall in 200 BCE to themodern day of iPods, hungry ghosts continue to torment those who wronged them.
At once a window into the history and culture of China and an ode to Chinese cuisine, this assortment of frightening tales complete with historical notes and delectable recipes will both scare and satiate
About the Author
---
Ying Chang Compestine grew up in China and now lives in California with her husband and son. She is the author of the young adult novel Revolution Is Not a Dinner Party, as well as several picture books for children and cookbooks for adults.
Praise For…
---
"Compestine (Revolution Is Not a Dinner Party) pens a gruesome but delightful grouping of eight stories about so-called hungry ghosts…who return to seek vengeance. …Compestine includes historical context for the stories and a number of recipes (though some readers may find they lack an appetite). The stories are laced with beautiful (as well as lurid) images and chilling illustrations of the ghosts and their victims. Like the ghosts themselves, Compestine's memorable stories should prove difficult to shake."—Publishers Weekly, Starred Review
"Eight grisly horror stories are arranged to feed the hungry imaginations of readers fascinated with blood, gore, murders and ghosts, who, like their Western counterparts, want to avenge their deaths and have the things they had in life, especially their favorite foods. … This will whet the appetites of a certain type of ghost gourmet with a sophisticated palate; those with weak stomachs should stay away."—Kirkus Reviews
"This collection offers up enough fright—and food—to keep kids returning for seconds."—Horn Book Review
"Compestine (Boy Dumplings, 2009) presents an eight-course offering of chilling tales honoring Chinese food and ghost lore."—Booklist
"In this collection of gruesome ghost stories, Compestine takes readers through China's history, from the building of the Great Wall to the modern day. … These stories are not only deliciously frightening but also introduce readers to ancient and modern Chinese customs and beliefs."—School Library Journal