Revolution Is Not a Dinner Party (Hardcover)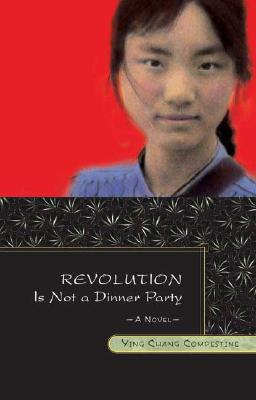 $16.95
Email or call for price
Description
---
Nine-year-old Ling is very comfortable in her life; her parents are both dedicated surgeons in the best hospital in Wuhan. But when Comrade Li, one of Mao's political officers, moves into a room in their apartment, Ling begins to witness the gradual disintegration of her world. In an atmosphere of increasing mistrust, Ling fears for the safety of her neighbors and, soon, for herself and family. Over the course of four years, Ling manages to grow and blossom, even as she suffers more horrors than many people face in a lifetime.
Drawing from her childhood experience, Ying Chang Compestine brings hope and humor to this compelling story for all ages about a girl fighting to survive during the Cultural Revolution in China.
"Revolution Is Not a Dinner Party" is a 2008 Bank Street - Best Children's Book of the Year.
About the Author
---
Ying Chang Compestine grew up in China and now lives in California with her husband and son. She is the author of the young adult story collection "A Banquet for Hungry Ghosts," as well as several picture books for children and cookbooks for adults.
Praise For…
---
*  "Readers should remain rapt by Compestine's storytelling throughout this gripping account of life during China's Cultural Revolution."—Publishers Weekly, Starred Review
"Laced in all the right places with humor, fury, fear, resolve and eventual relief, her childlike voice is carefully maintained over the sweep of four years—candid and credible, naive and nuanced."—San Francisco Chronicle "This child's-eye view of the Chinese Cultural Revolution is ultimately a tale of survival; lyrical yet gripping, accessible and memorable, it's based on the author's experiences. Certain to inspire discussion about freedom and justice."—Kirkus Reviews "Authentic. . . . This semi-autobiographical novel comes alive with the author's rich descriptions of the sights and smells of China at the beginning of the Cultural Revolution."—School Library Journal
"In clipped lyrical sentences, Compestine's first-person narrative sets a naïve child's struggle to survive against betrayal and courage in one neighborhood and also the political panorama of spies and slogans."—Booklist
"Compestine does a good job giving young YA readers a realistic picture of what that period of history meant to individuals caught in the political nightmare. Certainly those with a Chinese heritage will find the story important to understand their own family history."—KLIATT
"Beautifully descriptive phrases allow this autobiographical fiction to come alive with the colors of the clothing that are lovingly sewn for Ling, the aromatic preparations of the food that is cooked, and the genuine appreciation of school, work, and valued neighbors. . . . The simple narrative is [refreshing] . . . in its youthful disbelief of the hardships that have befallen them in a changing political situation."—Voice of Youth Advocates