A Great Improvisation: Franklin, France, and the Birth of America (Paperback)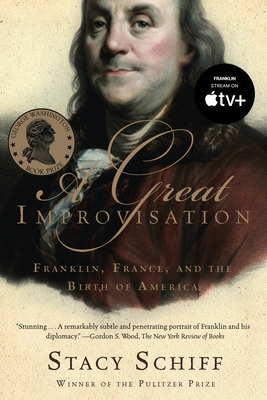 $21.99

Usually Ships in 1-5 Days
Description
---
In this dazzling work of history, a Pulitzer Prize-winning author follows Benjamin Franklin to France for the crowning achievement of his career

"In December of 1776 a small boat delivered an old man to France." So begins an enthralling narrative account of how Benjamin Franklin--seventy years old, without any diplomatic training, and possessed of the most rudimentary French--convinced France, an absolute monarchy, to underwrite America's experiment in democracy.

When Franklin stepped onto French soil, he well understood he was embarking on the greatest gamble of his career. By virtue of fame, charisma, and ingenuity, Franklin outmaneuvered British spies, French informers, and hostile colleagues; engineered the Franco-American alliance of 1778; and helped to negotiate the peace of 1783. The eight-year French mission stands not only as Franklin's most vital service to his country but as the most revealing of the man.

In A Great Improvisation, Stacy Schiff draws from new and little-known sources to illuminate the least-explored part of Franklin's life. Here is an unfamiliar, unforgettable chapter of the Revolution, a rousing tale of American infighting, and the treacherous backroom dealings at Versailles that would propel George Washington from near decimation at Valley Forge to victory at Yorktown. From these pages emerges a particularly human and yet fiercely determined Founding Father, as well as a profound sense of how fragile, improvisational, and international was our country's bid for independence.
About the Author
---
Stacy Schiff is the author of Vera (Mrs. Vladimir Nabokov), which won the Pulitzer Prize for biography in 2000, and Saint-Exupery, which was a finalist for the 1995 Pulitzer Prize. Schiff's work has appeared in The New Yorker, The New York Times Book Review, The Washington Post, and The Times Literary Supplement. She has received fellowships from the Guggenheim Foundation, the National Endowment for the Humanities, and the Center for Scholars and Writers at the New York Public Library. She lives in New York City.
Praise For…
---
"In sparkling prose, burnished to a high gloss, Stacy Schiff tells the tale of Benjamin Franklin in Paris with piquant humor, outrageous anecdotes worthy of the finest French farce, and a wealth of lapidary observations. Her Paris unfolds as a glittering carnival of spies, rogues, frauds, and flawed reformers, eccentric nobility and perpetually squabbling American diplomats. Towering above all is the protean figure of Franklin, an improbable compound of wit, cunning, hypocrisy, courage, and tireless devotion to his country. C'est magnifique!" —Ron Chernow, author of Alexander Hamilton

"This is a book to savor. Every page has some new nugget of insight, or some graceful turn of phrase that generates a verbal airburst over the most psychologically agile American of his time, perhaps of all time. Schiff has given a genuine jolt to the recent surge of interest in Franklin, along the way demonstrating why she is generally regarded as one of the most gifted storytellers writing today." —Joseph J. Ellis, author of Founding Brothers and His Excellency: George Washington

"What a brilliant book. A Great Improvisation pays tribute to the extraordinary love affair between monarchist France and the republican Benjamin Franklin. Their child was America, conceived at home and nurtured into maturity by France. It is a story full of intrigue, jealousy and passion. But ultimately it is a celebration of one American's love for his country. Stacy Schiff has written a masterpiece, capturing a fleeting moment when the stars aligned between Congress and Versailles. " —Amanda Foreman, Author of Georgiana: Duchess of Devonshire

"Stacy Schiff's extensive scholarship, her eye for the colorful detail, and her lively wit combine to bring alive -- in full dress and in an absorbing narrative -- the cast of statesmen, adventurers, spies, courtiers, patriots and con men who have a part in the story of Benjamin Franklin's negotiations for American independence, and to fix among them America's greatest diplomat, winning his way (and America's) in a style of calculated disarray. An extraordinary book." —Edmund S. Morgan, author of Benjamin Franklin

"This remarkable book breaks new ground. Stacy Schiff has dug deep into the archives of France (no mean feat!) and brought up a motherlode of gems which, polished by her wit, illuminate the doublespeak of the ambassadorial world, as well as the ferocious backbiting among the colonial envoys. From this maelstrom emerges Franklin, inventing the American foreign service as he had figured out electricity, bifocals, a new stove, the glass armonica -- step by cautious step." —Claude-Anne Lopez, Author of Mon Cher Papa: Franklin and the Ladies of Paris