We Cook Filipino!: Heartwarming Recipes and Stories from 36 Filipino Food Personalities & Award Winning Chefs (Hardcover)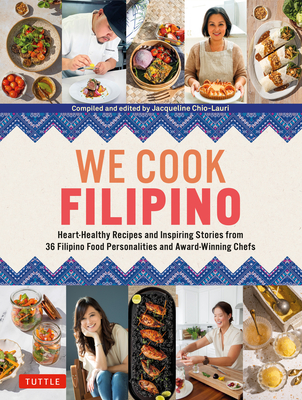 Description
---
"This beautiful book is filled with stories and recipes from the heart, that are good for your heart too. It is a moving and meaningful showcase of how delicious and healthful Filipino food can be." --Ellie Krieger, RD, Food Network and PBS show host, and James Beard Foundation award winning cookbook author.
Kumain ka na?
(Have you eaten yet?) is the greeting used by Filipinos whenever they meet. This book presents the extraordinary food culture of the Philippines in stories and recipes from 36 culinary trailblazers--award-winning chefs, food writers and social media stars from around the globe. They share with us not just their favorite recipes for classic Philippine dishes like Adobo, Tokneneng, Sinagang and Ginataan, but also their personal family stories about what Filipino food and food culture mean to them.
Here are just a few of the fascinating stories and recipes found in this book:
Award-winning writer, blogger and podcaster Liren Baker explains how family recipes were passed down to her by her Tita Leah and presents her favorite recipe for "Pancit Bihon Guisado" (Vegetarian Fried Rice Noodles)
James Beard finalist Carlo Lamagna, chef-owner of Magna Kusina in Portland, Oregon, tells us how culture shock turns into culinary adventure whenever he goes to the Philippines, and shares his healthy take on street-food favorite "Tokeneng" (Orange-coated Egg)
Amormia Orino moved to Atlanta in 2018 and started hosting Kamayan (communal feasts)--she shares a heart-wrenching story about her aging mother and her unforgettable recipe for "Ginataang Alimasag" (Coconut-stewed Crabs)
Grace Guinto, chief baking officer of Sweet Cora, a catering business that adds Filipino flavors to local Aussie sweet treats, talks of the recipes her mother left her as "love notes from the heavens" and gives us a summery recipe for the classic "Food for the Gods" (No-Bake Date and Walnut Balls)
Helen Orimaco-Pumatong, chef-instructor at Vancouver Community College, recounts how a trip back to the Philippines for her grandmother's funeral led to unexpected happiness, and shares her aromatic and healthy version of "Ensaladang Mangga at Hipon" (Mango and Calamansi-Poached Prawn Salad)
Plus recipes and stories from 27 others
Along with insightful stories and 51 different recipes, readers will learn many tips and techniques to balance flavor and heart-health in your dishes, such as:
How to use Filipino cooking methods to achieve bold flavors without adding extra sodium or sugars to your diet
Preparing ingredients to retain the maximum amount of heart-healthy nutrients
Managing your sodium intake while still using salt to heighten flavor
Using heart-healthy tricks--like how to increase nutrient density and reduce the caloric value of a cup of white rice
Quick methods brewing flavorful broths, whipping up no-fry crispy treats, and so much more
The 51 delicious recipes in this book are not just "from the heart"--they are also "good for the heart"--specifically included for their health benefits. The result is a cookbook presenting food as something central to Filipino culture and emotional well-being as well as being nutritious and amazingly tasty.
About the Author
---
Jacqueline Chio-Lauri (@myfoodbeginnings) is the editor and lead author of this compilation of stories and recipes, as well as the highly acclaimed The New Filipino Kitchen. Keep an eye out for her upcoming picture books based on the lives of Filipino food icons Maria Orosa and Ma Mon Luk. Jacqueline currently lives in the UK. [See excerpts for complete biographies of the 35 contributors]