Elementary Korean: Second Edition (Includes Access to Website for Native Speaker Audio Recordings) [With CD (Audio)] (Paperback)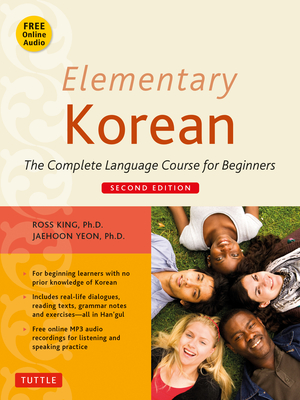 $29.95

Usually Ships in 1-5 Days
Description
---
This is a comprehensive and detailed introductory Korean textbook and language learning package.
Korean is now the 11th most popular language taught at American universities. This new edition of
Elementary Korean
, the most comprehensive and detailed introductory Korean textbook available, offers beginning learners of Korean everything they need to learn the language effectively. Perfect for a first-year university-level course use or the independent language learner. No prior knowledge of the language is necessary. The new format, now with dozens of illustrations, presents Korean vocabulary and Korean grammar in an accessible and understandable manner while extensive conversations and exercises help to reinforce the Korean language and build reading and listening comprehension.
This edition includes:
Downloadable companion MP3 audio with native speaker recordings and a dedicated website.
Rich and highly nuanced examples with brand new illustrations.
Grammar notes
Ample writing exercises with an accompanying answer key.
Detailed examples of authentic dialogue.
Plenty of writing practice.
Dialogues, reading texts, and written exercises are in Hangul, the Korean alphabet, so students are quickly able to read and write authentic Korean. Layered lessons are designed to build on each other, making Korean easy to learn from the most popular introductory Korean language textbook available. Included is downloadable revised audio that helps learners to speak like a native and a web-based practice component through the University of British Columbia that can help students to learn Korean even beyond the pages of this book. According to the Modern Language Association, enrollment in Korean in American universities is increasing rapidly. Available separately is the companion
Elementary Korean Workbook
, which assists learners in practicing and polishing their Korean language skills. Each lesson supplements the corresponding lesson in the textbook. There are ten activities per lesson, offering a range of exercises and practice opportunities to enable you to achieve proficiency in everyday, conversational Korean.
All disc content is alternatively accessible on tuttlepublishing.com/downloadable-content.
About the Author
---
Ross King, Ph.D., is Professor of Korean and Head of the Department of Asian Studies at the University of British Columbia. He completed his B.A. in Linguistics at Yale and his doctorate in Linguistics (Korean) at Harvard. Dr. King taught Korean language and linguistics at the School of Oriental and African Studies, University of London, from 1990 to 1994, before accepting his current position. Dr. King's research interests range from Korean historical grammar, dialectology and pedagogy to the language, culture and history of the ethnic Korean minority in the former Soviet Union. He also serves as Dean of the Korean Language Village at Concordia Language Villages, a Korean language and culture summer immersion program for young people ages 7 to 18 that is based in northern Minnesota. Jaehoon Yeon, Ph.D., is Professor of Korean Language and Linguistics and Chair of the Centre of Korean Studies at the School of Oriental and African Studies (SOAS), University of London. He is the author of Korean Grammatical Constructions: Their Form and Meaning (Saffron Books, London) and the co-author of Korean: A Comprehensive Grammar (Routledge), Complete Korean: Teach Yourself (Hodder Education) and Integrated Korean: Advanced I, II (University of Hawaii Press). He has published many articles on Korean grammar and linguistics. He has been teaching Korean language and linguistics at SOAS since 1989. Dr. Yeon's research interests include a wide range of Korean linguistics (especially morpho-syntax) and linguistic typology, Korean language pedagogy, and translation.