Nong's Thai Kitchen: 84 Classic Recipes That Are Quick, Healthy and Delicious (Paperback)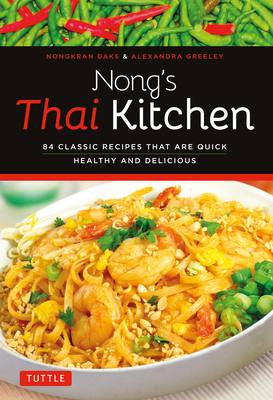 $14.95

Usually Ships in 1-5 Days
Description
---
Only one chef has proved her mastery over celebrity chef Bobby Flay in the Food Network's Pad Thai Throwdown challenge: Nongkran Daks.
Now, the master chef and owner of Virginia's renowned Thai Basil restaurant shares her secrets for creating Thai cuisine's most beloved dishes at home--using ingredients that can be found in most grocery stores. In
Nong's Thai Kitchen
, Daks teams up with veteran food writer Alexandra Greeley to show readers how to prepare classic Thai recipes such as:
Chicken with Thai Basil
Shrimp Soup in Coconut Milk
Spicy Beef Salad with Mint Leaves
Roasted Duck Curry
Thai food is famous for its balance of sweet, sour, salty and hot flavors. This unique symphony of tastes and sensations is why Thai restaurants and cookbooks have entered the mainstream. What most people don't realize is that once elusive Thai ingredients such as fish sauce, lemongrass, coconut milk, cilantro, basil and shallots are now easily found, making it easy to prepare mouthwatering Thai dishes at home for far less money than they would cost in a restaurant. All the recipes in this essential Thai cookbook are healthy, easy to make and inexpensive, so step into
Nong's Thai Kitchen
and begin a culinary journey to the tropical heart of Asia.
About the Author
---
Nongkran Daks is the executive chef and owner of the Thai Basil restaurant in Chantilly, Virginia. Part master chef and dedicated teacher, she makes her cuisine come alive in all its authentic, traditional glory. She has taught Thai, Vietnamese, and Chinese cooking in Bangkok, Beijing, Honolulu, Vientiane, Laos and Washington, DC. Nongkran is the author of several Asian cookbooks and enjoys sharing the secrets of authentic Thai cooking with students in her cooking classes. Nongkran's most popular dish is Pad Thai, and she proved her mastery of it when she won Food Network's Pad Thai Throwdown challenge against celebrity chef, Bobby Flay. Alexandra Greeley is a food writer, cookbook author, editor, reporter, food critic, staff writer, and freelance writer and editor, both in the United States and in Asia. She has also worked as a staff food editor for Vegetarian Times magazine. She served as the food writer & editor for the South China Morning Post in Hong Kong and has been a restaurant reviewer and editor for Gayot.com. She's a member of Les Dames d'Escoffier and is the co-founder of the Washington DC chapter of Slow Food USA.