Chinese Flash Cards Kit Volume 2: Hsk Levels 3 & 4 Intermediate Level: Characters 350-622 (Online Audio Included) (Paperback)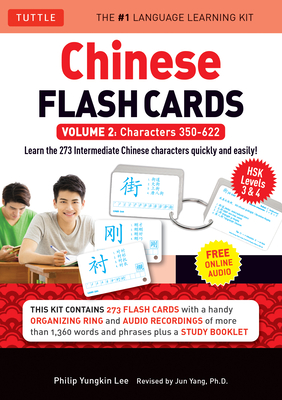 $19.95

Usually Ships in 1-5 Days
Description
---
A great way to study Chinese, flash cards remain an accessible, efficient tool for rapid memorization, and Tuttle's flash cards are the best available today.
The front of each card gives one Chinese character. On the reverse is as much information as a dictionary entry: stroke order, radicals, vocabulary, idiomatic phrases, and sample sentences. An audio CD gives native-speaker pronunciations. An excellent tool for HSK Chinese language study, this second volume will help you master the 273 intermediate-level characters, along with their associated 1,360+ words and sentences. Whether at home or on the go, you can use these cards to learn several new characters every day and watch your knowledge develop rapidly over time. This kit features:
273 hole-punched cards presenting the essential intermediate-level characters.
Native-speaker audio recordings of 1,360+ example words and sentences.
A 32-page study booklet with sorting indexes and practice tips.
Radicals, compounds and idiomatic phrases, plus traditional forms where applicable.
A handy organizing ring is included to hold the cards.
All disc content is alternatively accessible on tuttlepublishing.com/downloadable-content.
About the Author
---
Jun Yang, Ph.D. is a Senior Lecturer in Chinese Language in the Department of East Asian Languages and Civilizations at the University of Chicago. He holds a Ph.D. in Second Language Acquisition and Teaching. His research interests include second language acquisition, Chinese linguistics and pedagogy, and K12 foreign language teacher training. Philip Yungkin Lee is an applied linguist with 30 years of practical experience in teaching Chinese to foreign learners. Now retired from the University of New South Wales in Sydney, Australia, he is the author of the Pocket Mandarin Chinese Dictionary, the Pocket Cantonese Dictionary, Essential Mandarin Chinese Phrase Book, Essential Cantonese Phrase Book, and the four volumes of Learning Chinese Characters Flash Cards (Tuttle Publishing).