Juicing for Health (Paperback)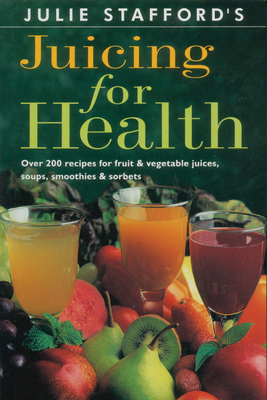 $16.95

Usually Ships in 1-5 Days
Description
---
Why is fresh juice better than bottled juice? Why are the vitamins and minerals in fresh juice more effective than supplements? How much juice should you drink, and when should you drink it? All these questions and more are answered by best-selling author Julie Stafford in Juicing for Health.
In order for the human body to function efficiently it needs a regular supply of high-quality nutrients in the right combination and concentration. The interaction of these nutrients is the basis of good health and wellbeing. The best way of obtaining these nutrients is through eating fresh fruit and vegetables: human beings are living things and we need a large proportion of our food intake to be living also. Fruit and vegetables, especially in their raw state, contain living enzymes that are essential in the breaking down and absorption of nutrients. In this juicing book, Julie Stafford, a leading voice in the health and nutrition revolution, shows you the easiest and best-tasting way to get the vitamins and minerals you need to stay healthy.
Juices are packed with nutrients and enzymes that help build a strong immune system and fight disease
Juices are fiber-free, so their nutrients are rapidly absorbed
Juices provide the extra boost that even a well-balanced diet needs
Juices are useful in weight-loss programs--they are filling yet low in calories, high in water and speed up the body's metabolism
Juices are delicious--and can be prepared in an instant
Julie Stafford's
Juicing for Health
is a positive approach to achieving better health. Packed with information about diet and nutrition, it also includes more than 200 juicing recipes for fruit juice, vegetable juices, soups, smoothies and sorbets--each recipe designed for maximum taste impact.
About the Author
---
Julie Stafford is the highly acclaimed author of the bestselling Taste of Life cookbooks, which have sold more than 1.5 million copies worldwide. When her husband, Bruce, was diagnosed as having cancer, Julie became vitally interested in the relationship between diet and disease. She modified her favorite recipes and invented new ones that were low in fat and cholesterol, had no added sugar or salt, were high in fiber, and tasted delicious. Publication of her first Taste of Life cookbook followed Bruce's remarkable remission.