The Murder of Mary Russell: A novel of suspense featuring Mary Russell and Sherlock Holmes (Paperback)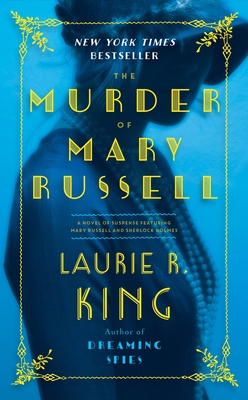 Other Books in Series
This is book number 14 in the Mary Russell and Sherlock Holmes series.
Description
---
NEW YORK TIMES BESTSELLER • Laurie R. King's Mary Russell–Sherlock Holmes series weaves rich historical detail and provocative themes with intriguing characters and enthralling suspense. Russell and Holmes have become one of modern literature's most beloved teams. But does this adventure end it all?
 
Mary Russell is used to dark secrets—her own, and those of her famous partner and husband, Sherlock Holmes. Trust is a thing slowly given, but over the course of a decade together, the two have forged an indissoluble bond.
 
And what of the other person to whom Mary Russell has opened her heart: the couple's longtime housekeeper, Mrs. Hudson? Russell's faith and affection are suddenly shattered when a man arrives on the doorstep claiming to be Mrs. Hudson's son.
 
What Samuel Hudson tells Russell cannot possibly be true, yet she believes him—as surely as she believes the threat of the gun in his hand. In a devastating instant, everything changes. And when the scene is discovered—a pool of blood on the floor, the smell of gunpowder in the air—the most shocking revelation of all is that the grim clues point directly to Clara Hudson.
 
Or rather to Clarissa, the woman she was before Baker Street.
 
The key to Russell's sacrifice lies in Mrs. Hudson's past. To uncover the truth, a frantic Sherlock Holmes must put aside his anguish and push deep into his housekeeper's secrets—to a time before her disguise was assumed, before her crimes were buried away.
 
There is death here, and murder, and trust betrayed.
 
And nothing will ever be the same.

Praise for The Murder of Mary Russell

"Leaping narrative energy has always been a hallmark of this series, and it reaches something of a peak in this latest volume. . . . The lean momentum of the story never falters. . . . It's a stunning prolonged feat of storytelling, and it succeeds in making The Murder of Mary Russell the best installment so far in an excellent series."—The Christian Science Monitor
 
"[A] sharp, inventive and rewarding series."—The Seattle Times
 
"Delightful . . . a triumph of plotting . . . Fans, always hungry to know more personal details about King's iteration of Sherlock Holmes and his world, will get a few more delicious tidbits this time around."—Booklist (starred review)
About the Author
---
Laurie R. King is the New York Times bestselling author of fourteen Mary Russell mysteries, five contemporary novels featuring Kate Martinelli, the Stuyvesant & Grey novels Touchstone and The Bones of Paris, and the acclaimed A Darker Place, Folly, Califia's Daughters (written under the pen name Leigh Richards), and Keeping Watch. She lives in Northern California.
Praise For…
---
Praise for The Murder of Mary Russell
 
"Leaping narrative energy has always been a hallmark of this series, and it reaches something of a peak in this latest volume. . . . The lean momentum of the story never falters. . . . It's a stunning prolonged feat of storytelling, and it succeeds in making The Murder of Mary Russell the best installment so far in an excellent series."—The Christian Science Monitor
 
"[A] sharp, inventive and rewarding series."—The Seattle Times
 
"Delightful . . . a triumph of plotting . . . Fans, always hungry to know more personal details about [Laurie R.] King's iteration of Sherlock Holmes and his world, will get a few more delicious tidbits this time around."—Booklist (starred review)

"Not only a high point in King's long-running series, but a compelling demonstration of the ways inventive writers can continue to breathe new life into the Holmes-ian mythology . . . Both Holmes and Russell will have a chance to shine; in fact, the case achieves a rare balance between Holmes, Russell, and the mystery they've been set."—Kirkus Reviews (starred review)

"Whip-smart, suspenseful and intricately plotted, The Murder of Mary Russell shines a brilliant light on an often overlooked aspect of the Sherlock Holmes universe."—Shelf Awareness
 
"A tantalizing tale of deception and misdirection for [Laurie R. King's] readers' delight."—LibraryReads (Top Ten Pick)

Praise for the award-winning novels of Laurie R. King
 
"The great marvel of King's series is that she's managed to preserve the integrity of Holmes's character and yet somehow conjure up a woman astute, edgy, and compelling enough to be the partner of his mind as well as his heart."—The Washington Post Book World
 
"The most sustained feat of imagination in mystery fiction today."—Lee Child
 
"A lively adventure in the very best of intellectual company."—The New York Times
 
"Erudite, fascinating . . . by all odds the most successful re-creation of the famous inhabitant of 221B Baker Street ever attempted."—Houston Chronicle
 
"Intricate clockworks, wheels within wheels."—Booklist (starred review)
 
"Imaginative and subtle."—The Seattle Times
 
"Impossible to put down."—Romantic Times
 
"Remarkably beguiling."—The Boston Globe