Deeper: A Novel (Caroline & West #1) (Paperback)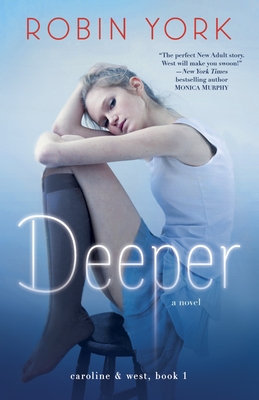 for information about purchasing this book, please contact orders@bookpassage.com
Other Books in Series
This is book number 1 in the Caroline & West series.
Description
---
NAMED ONE OF THE BEST BOOKS OF THE YEAR BY LIBRARY JOURNAL

In Robin York's sizzling debut, a college student is attacked online and must restore her name—and stay clear of a guy who's wrong for her, but feels so right.
 
When Caroline Piasecki's ex-boyfriend posts their sex pictures on the Internet, it destroys her reputation as a nice college girl. Suddenly her once-promising future doesn't look so bright. Caroline tries to make the pictures disappear, hoping time will bury her shame. Then a guy she barely knows rises to her defense and punches her ex to the ground.
 
West Leavitt is the last person Caroline needs in her life. Everyone knows he's shady. Still, Caroline is drawn to his confidence and swagger—even after promising her dad she'll keep her distance. On late, sleepless nights, Caroline starts wandering into the bakery where West works.
 
They hang out, they talk, they listen. Though Caroline and West tell each other they're "just friends," their feelings intensify until it becomes impossible to pretend. The more complicated her relationship with West gets, the harder Caroline has to struggle to discover what she wants for herself—and the easier it becomes to find the courage she needs to fight back against the people who would judge her.
 
When all seems lost, sometimes the only place to go is deeper.

Praise for Deeper

"York's beautiful prose and vivid descriptions enhance the realism and impact of Caroline and West's story. Deeper and Harder are sensual and profoundly moving. The books are told in first-person from both Caroline's and West's POVs, and I sat on the emotional roller coaster right beside them as West learns to hold tight to Caroline and embrace life to the fullest. . . . They are books I will cherish."—Lea Franczak, USA Today

"Deeper perfectly captured me. Robin York masterfully tells this story with the perfect balance in tone and realistic characters that I'm still thinking about days later. One of the best written New Adult novels, hands down!"—Cora Carmack, New York Times bestselling author of Losing It
 
"Bursting with chemistry, emotion, and heart, Caroline and West's story will take your breath away!"—Katy Evans, New York Times bestselling author of the REAL series
 
"The perfect New Adult story. West will make you swoon!"—New York Times bestselling author Monica Murphy
 
"Beautifully written and full of swoony tender moments, toe-curling chemistry, and delicious, twisty angst . . . Stop whatever you're doing and read this book."—Christina Lauren, author of the Beautiful Bastard series

About the Author
---
Robin York grew up at a college, went to college, signed on for some more college, and then married a university professor. She still isn't sure why it didn't occur to her to write New Adult sooner. Writing as Ruthie Knox, she is a New York Times bestselling author of contemporary romance, including RITA-nominated About Last Night and Room at the Inn. She moonlights as a mother, makes killer salted caramels, and sorts out thorny plot problems while running, hiking, or riding her bike.
Praise For…
---
"[Robin] York's beautiful prose and vivid descriptions enhance the realism and impact of Caroline and West's story. Deeper and Harder are sensual and profoundly moving. The books are told in first-person from both Caroline's and West's POVs, and I sat on the emotional roller coaster right beside them as West learns to hold tight to Caroline and embrace life to the fullest. . . . They are books I will cherish."—Lea Franczak, USA Today

"Deeper perfectly captured me. Robin York masterfully tells this story with the perfect balance in tone and realistic characters that I'm still thinking about days later. One of the best written New Adult novels, hands down!"—Cora Carmack, New York Times bestselling author of Losing It
 
"Bursting with chemistry, emotion, and heart, Caroline and West's story will take your breath away!"—Katy Evans, New York Times bestselling author of the REAL series
 
"The perfect New Adult story. West will make you swoon!"—New York Times bestselling author Monica Murphy
 
"Beautifully written and full of swoony tender moments, toe-curling chemistry, and delicious, twisty angst . . . Stop whatever you're doing and read this book."—Christina Lauren, author of the Beautiful Bastard series

"If you're looking for a story that is beautifully written but tackles a tough issue, a story that is filled with some swoon worthy moments and wonderful chemistry, a story that has some angst and sadness wrapped in a story of love and friendship, then you need to pick up Deeper."—Fiction Fare
 
"It is very difficult for me to articulate all the things that I want to say about this book because I love it so much. . . . [It's] scorchingly hot, and the chemistry between these characters is nothing short of explosive. If you've read anything by Ruthie Knox before, you know she can turn a phrase, but Deeper takes that to another level. I don't think I've ever read anything where every single word holds such power. . . . Everything about this book is perfection—the words, the characters, the swoon, the boy. Just trust me and read it. I know you'll love it!"—Steamy Guys After Dark
 
"If reviews could be one word this one would be beautiful! This book blew me away. The plot was heartfelt and realistic. The reactions were real. The emotions pulled at my heart strings. The characters were spot on. Deeper has the right amount of angst, drama, emotion, and romance. . . . I can't wait for more of Caroline and West!"—BS Book Reviewers
 
"This is the kind of book everyone needs to read a least once. It's beautiful, sexy, touching and sad and it's everything I could ever hope for in a book. Deeper is by far one of my favorite books of the year and I know by the end of this year, it still will be fresh on my mind."—Anna's Book Blog
 
"If you're looking for a spectacularly NA angst and friendship turned romance, with a fantastic plot, beautiful and deep characters, and are willing to invest yourself emotionally in a genuinely real story, get Deeper."—The Book Hammock
 
"Deeper blew me away. I was hooked from the first page. I laughed, I cried, I cursed and neglected pretty much everything while I finished it. Most importantly I cheered that York could take on a subject so serious and relevant, combine it with some truly unique and interesting characters, and end up with a book that was so engaging and emotional."—Twin Spin
 
"What a fantastic read! . . . I loved how real everything felt, the talks, the overnight baking sessions, the uneasy emotional pull and push and even extremely hot sex. Add to it West's family situation with absolutely no easy way to shed his problems, and Caroline's fight to reclaim her identity, finish it off with a heart-wrenching ending, and you have one powerful read."—Noctural Book Reviews
 
"Holy wow. Robin York impressed me so much with Deeper. . . . Caroline and West's relationship is as hot as summer. Maybe even hotter. There's some serious sexual tension and chemistry here. . . . The romance is passionate and all-consuming and you can't help but fall just as deep as Caroline and West did. . . . York's story is extremely powerful and the writing is terrific. . . . Gorgeously gripping and sexy, Deeper is a book New Adult fans wouldn't want to miss!"—Stay Bookish
 
"I would highly recommend this book to all of my romance junkie friends. . . . I'd give it more than five stars if I could!"—Reading Haven
 
"I was blown away by this story. . . . My heart ached at times during this journey, but the ending couldn't have set up the next in the series more perfectly. I cannot wait for book two in Caroline and West's story."—Her Juicy Reads