Rain or Shine: A Family Memoir (Paperback)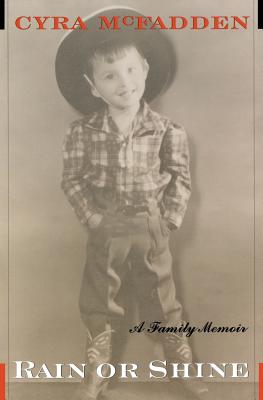 $12.95

Usually Ships in 1-5 Days
Description
---
Cy Taillon was the molasses-voiced king of rodeo announcers. When he died in 1980, newspapers in the West canonized him as the dean of rodeo and compared him to John Wayne. A reformed rake, handsome and charming and flashy, he was also difficult, often more lovable to the public than to his family. In the thirties he married a spitfire dancer from Arkansas who changed her name from Nedra Ann to Patricia, and they hit the road in pursuit of stardom.
Their daughter, Cyra, grew up on the rodeo circuit, traveling all over the West with her free-spirited, hell-raising parents, often eating hamburgers and sleeping in the Packard. She was the mascot, dressed in cowboy gear in spite of her father, who wanted her to look like Shirley Temple. Rain or Shine is the story of Cyra's complex relationship with her parents and eccentric relatives. She looks back with pride, regret, and humor on family life spent and misspent in the gaudy, gritty world of rodeo.
About the Author
---
Cyra McFadden, who lives in San Francisco, is the author of The Serial, a bestselling parody of life in Marin County, California.
Praise For…
---
"The considerable power of this book and of these lives [is] burned permanently into the reader's memory."—Thomas McGuane, New York Times Book Review

"This funny, affecting memoir achieves a series of satisfying reconciliations. Author McFadden not only portrays and then patches up the quarrels and estrangements that raged between her and her father, she captures the tawdry colors of the Old West and mourns their fading. . . . McFadden has the rare skill of stripping away pretensions without making the people exposed seem ridiculous."—Time

"She tells a strong story well, tuning in to the sadness and the humor of it with equal accuracy."—New Yorker

"To make sense of her parents and herself, to unpeel them without fury or sentiment and also without turning everyone into fictional characters, a writer would need to go beyond autobiography into art. And this is what Cyra McFadden has done in her dazzling Rain or Shine."—Ms.