The Entire Earth and Sky: Views on Antarctica (Paperback)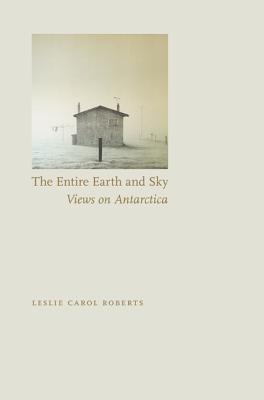 $19.95

Usually Ships in 1-5 Days
Description
---
More than a distant continent, Antarctica is a land of the imagination, shaping and shaped for centuries by explorers, adventurers, scientists, and dreamers.
The Entire Earth and Sky
, a kaleidoscope of legends, stories, field notes, images, reports, history, letters, and research, renders an impression, both vast and microscopic, of the effect of human beings on the land we call Antarctica, and its effect on us. It balances the reality of the frigid outpost populated by a ragtag alliance of international researchers against the crystalline dreamscape of a continent at the bottom of the world.
When Leslie Carol Roberts went to Antarctica for the first time with Greenpeace, she was hoping to save the world. In the twenty years since then, she has shifted to the no less difficult task of saving Antarctica itself, compiling memoirs and stories, learning the biology and geography of the icy land, and documenting her own journey. Roberts describes in detail the town of Lyttelton, New Zealand—the Cape Canaveral for so many great Antarctic expeditions—prior to the devastating 2011 earthquake in which it was the epicenter.
The Entire Earth and Sky weaves the tragic and heroic tales of nineteenth-century exploration, interviews with scientists, and the author's personal observations into a remarkable collage that evokes the beauty and the complexity, the perils and the rewards of a lifelong engagement with the earth's last wilderness.

About the Author
---
Leslie Carol Roberts received her MFA from the University of Iowa and was a Fulbright Fellow at Gateway Antarctica New Zealand. She now teaches in the Graduate Design Program at the California College of the Arts, San Francisco. She has written hundreds of articles and essays for publications, including the Bellevue Literary Review, the Christian Science Monitor, and the Sydney Morning Herald.
Praise For…
---
"Leslie Roberts packed her duffel, her down parka, her bunny boots, her quill, her notebook and headed south. But she also packed her heart, her soul, and her gift. The result is pure art: honest, true to place, original, and lovely. "—David G. Campbell, author of The Crystal Desert: Summers in Antarctica

"'I am Antarctica and Antarctica is me,' Leslie Carol Roberts wants to cry out, knowing that the famous and forbidding land of penguins, ferocious leopard seals, explorers lucky and not, scientists who shag their way through the months-long winter night (also cooks and drivers and pilots and Scott Base string bikinis) is in peril. The Entire Earth and Sky introduces us to the place in a new and thorough and wholly original way. Roberts, possessed of a certain sweet curiosity and impressive smarts, is a poet of the ice, and a cataloger, too. In the end she makes one thing clear: we are all Antarctica, and Antarctica is us."—Bill Roorbach, author of Temple Stream, Big Bend, and Into Woods

"Roberts shows a poet's attention to detail. . . . [She] tells many forgotten stories of Antarctica in an engaging style that will appeal to anyone with an interest in cold places, travel adventures, and overlooked history."—Booklist

"[Roberts] bring[s] to life and light the historic port of Lyttelton. . . . Roberts introduces readers to the intriguing Norris, a man entirely dedicated to preserving the artifacts and thus shaping the narrative of one specific place on Earth."—Orion

"Roberts' seriousness, respect, and deep reflections about Antarctica run through the narrative as a strong thread, drawing it together into a potent whole."—Melbourne Historical Journal