In Thought and Action: The Enigmatic Life of S. I. Hayakawa (Paperback)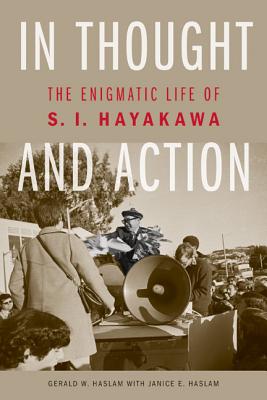 $29.95

Usually Ships in 1-5 Days
Description
---
One of the most gripping images from the 1960s captures the slight figure of Dr. S. I. Hayakawa scrambling onto a sound truck parked in front of San Francisco State College amid campus unrest. Hayakawa had hoped to use this soapbox to address the assembled demonstrators, but instead he ended up ripping out speaker wires and halting an illegal campus demonstration—or denying first-amendment rights to the crowd, depending on your perspective. Indeed, Hayakawa's entire life defies simplistic labels, and his ability to be categorized largely depends on personal perspective.
This intimate and detailed biography draws on interviews with friends and family members, as well as Hayakawa's own papers and journals, to bring this controversial and fascinating figure to life. He was an enigma to colleagues as well as adversaries, a Republican senator who consistently bucked his party's ideals with his support of the women's movement, abortion rights, and even Ronald Reagan's search for a female running mate. The son of Japanese immigrants, born and raised in Canada before moving to the United States, Hayakawa emerges here as a complex and complicated figure. His blend of heritage, politics, artistic inclination, and intellectual achievement makes him quintessentially American.
Visit the author's Web site for bibliographic notes.
About the Author
---
Gerald W. Haslam is a professor emeritus of English at Sonoma State University and the author and editor of numerous books, including Workin' Man Blues: Country Music in California, the novel Straight White Male, and the anthology Many Californias: Literature from the Golden State. Janice E. Haslam is the coauthor, with Gerald W. Haslam, of the fiction collection Manuel and the Madman and An Instructor's Guide to Many Californias.
Praise For…
---
"
In Thought and Action: The Enigmatic Life of S. I. Hayakawa
traces the fascinating life of an iconic American writer, teacher, politician, and family man. In the process, authors Gerald W. Haslam and Janice E. Haslam tell us a lot about the culture wars of the 20th century—and of American identity itself. The authors' many fans will be delighted by this definitive biography, as will students, scholars, and teachers of ethnic studies, California history, and American politics."—Jonah Raskin, author of
American Scream: Allen Ginsberg's "Howl" and the Making of the Beat Generation
"Haslam (with his own wife as partner) was a good choice for biographer. . . . [An] absorbing study of a surprising, multifaceted life."—
Kirkus
"This intimate and detailed biography draws on interviews with friends and family members, as well as Hayakawa's own papers and journals, to bring this controversial and fascinating figure to life."—
Rafu Shimpo
"Always a pioneer, Hayakawa showed consistent fearlessness in adopting an American identity despite racism, in marrying across the color line, in pursuing general semantics, and in opposing young rebels. This excellent biography uses copious papers and numerous interviews to emphasize Hayakawa's individuality and complexity. . . . Discussing both Hayakawa's virtues and his defects, the book is thorough, readable, and sympathetic."—W. J. Rorabaugh,
Journal of American History
"Haslam and his wife, Janice, have done a brilliant job in this timely biography."—Jud Snyder,
Community Voice
"An ingenious portrait."—Greg Robinson, Nichi Rei