Beyond DiMaggio: Italian Americans in Baseball (Hardcover)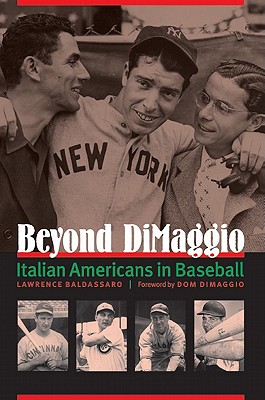 $49.95

Usually Ships in 1-5 Days
Description
---
Berra, Rizzuto, Lasorda, Torre, Conigliaro, Santo, Piazza. Casual baseball fans—in fact, even many nonfans—know these names, not as Italian Americans, but as some of the most colorful figures in Major League Baseball. Ever since future Hall of Famer Tony Lazzeri became a key part of the Yankees' Murderers' Row lineup of 1926, Italian Americans have been among the most prominent and intriguing players in the game. The first comprehensive study of the topic, Beyond DiMaggio is also a social history of baseball, tracing the evolution of American perceptions toward those of Italian descent as it chronicles the baseball exploits that influenced those perceptions.
 Lawrence Baldassaro tells the stories of Italian Americans' contributions to the game, from Joe DiMaggio, who transcended his ethnic identity to become an American icon, to A. Bartlett Giamatti, who served as commissioner of baseball, to Mike Piazza, considered the greatest hitting catcher ever. Baldassaro conducted more than fifty interviews with players, coaches, managers, and executives—some with careers dating back to the thirties—in order to put all these figures and their stories into the historical context of baseball, Italian Americans, and, finally, the culture of American sports.
About the Author
---
Lawrence Baldassaro is a professor emeritus of Italian at the University of Wisconsin–Milwaukee. He is the author of numerous articles on baseball, coeditor of The American Game: Baseball and Ethnicity, and editor of Ted Williams: Reflections on a Splendid Life. Dom DiMaggio (1917–2009), the younger brother of Joe and Vince DiMaggio, played for the Boston Red Sox for his entire ten-year career.
Praise For…
---
"Baldassaro brings a great deal of affection and merriment to his storytelling—whether he is replaying Cookie Lavagetto's and Al Gionfriddo's exploits in the 1947 World Series or exploring the sporting and cultural significance of Joe DiMaggio."—
Publishers Weekly
"Baldassaro's sweep ranges from Ed Abbaticchio, one of the first Italian Americans in the game, and Ping Bodie, who, born Francesco Stephano Pezzolo, was the first Italian American who came close to baseball stardom, to general managers, team owners, commissioner Angelo Bartlett Giamatti and, most movingly, the rise and fall of Red Sox slugger Tony Conigliaro."—Robert Cottrell,
Library Journal
"With interviews conducted by the author over the past decade and references to first-person accounts of the play and personalities of the older subjects, Baldassaro unearths colorful details such as the origin of Oscar 'Spinach' Melillo's nickname and Sal Maglie's run-ins with his Mexican League pitching coach, former Big Leaguer Dolf Luque, which even included some gunplay."—Jerry Milani, Baseball Digest

"The love of both his heritage and the great game of baseball pours from his heart as Baldassaro writes about the progress of Italian Americans through the 20th century until today."—Buddy Fortunato, Italian Tribune

"There are countless stories of Italian-Americans in baseball in this book, but they all share not only a common heritage but also the experience of participating in what the author justifiably calls 'the quintessential American game.'"—Mike Bauman, MLB.com