Who's Whose: A No-Nonsense Guide to Easily Confused Words (Hardcover)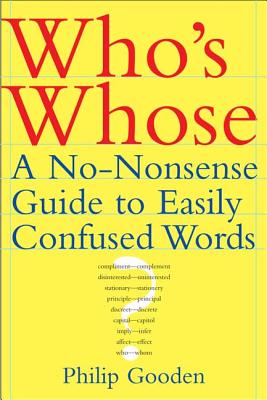 Description
---
You'll never again confuse affect and effect!
Have you ever been fazed by the spelling of phased, or fretted over the difference between anxiety and angst, stationery and stationary? If so, you are not alone: the English language is a minefield, full of words that look and sound alike but mean different things in different places.
Who's Whose? is an entertaining and essential A to Z guide to the most commonly confused words in English today, with real examples of good and bad usage to make differences crystal clear. In addition to documenting these verbal confusions, it offers a sympathetic guide to the seriousness of each gaffe (the Embarassment rating), an explanation of why it happens, and some handy hints on how to avoid it in future. With Who's Whose in your corner, you'll never again mistake a principle for a principal.
About the Author
---
Philip Gooden read English at Magdalen College, Oxford, and then taught at secondary level for many years. In 2001 he became a full-time writer. He is the author of the Nick Revill series, a sequence of historical mysteries based in Elizabethan London and set around Shakespeare's Globe theatre. Titles so far published are Sleep of Death, Death of Kings, The Pale Companion (shortlisted for the Ellis Peters Historical Dagger award in 2002), Alms for Oblivion, Mask of Night and An Honourable Murderer. A contributor to various short story anthologies, Philip Gooden also works as an editor, most recently on the Mammoth Book of Literary Anecdotes and a new edition of Arthur Conan Doyle's The Lost World for Penguin Classics. He has also written the popular Who's Whose?: A No-Nonsense Guide to Easily-Confused Words, published by Bloomsbury. He lives in Bath where he is currently working on the first in a new series of historical novels.