Beyond the Checklist: What Else Health Care Can Learn from Aviation Teamwork and Safety (Culture and Politics of Health Care Work) (Hardcover)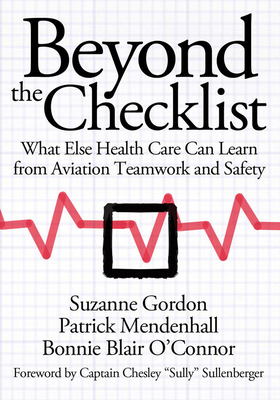 $78.95

Usually Ships in 1-5 Days
Description
---
The U.S. healthcare system is now spending many millions of dollars to improve "patient safety" and "inter-professional practice." Nevertheless, an estimated 100,000 patients still succumb to preventable medical errors or infections every year. How can health care providers reduce the terrible financial and human toll of medical errors and injuries that harm rather than heal?
Beyond the Checklist argues that lives could be saved and patient care enhanced by adapting the relevant lessons of aviation safety and teamwork. In response to a series of human-error caused crashes, the airline industry developed the system of job training and information sharing known as Crew Resource Management (CRM). Under the new industry-wide system of CRM, pilots, flight attendants, and ground crews now communicate and cooperate in ways that have greatly reduced the hazards of commercial air travel.
The coauthors of this book sought out the aviation professionals who made this transformation possible. Beyond the Checklist gives us an inside look at CRM training and shows how airline staff interaction that once suffered from the same dysfunction that too often undermines real teamwork in health care today has dramatically improved. Drawing on the experience of doctors, nurses, medical educators, and administrators, this book demonstrates how CRM can be adapted, more widely and effectively, to health care delivery.
The authors provide case studies of three institutions that have successfully incorporated CRM-like principles into the fabric of their clinical culture by embracing practices that promote common patient safety knowledge and skills.They infuse this study with their own diverse experience and collaborative spirit: Patrick Mendenhall is a commercial airline pilot who teaches CRM; Suzanne Gordon is a nationally known health care journalist, training consultant, and speaker on issues related to nursing; and Bonnie Blair O'Connor is an ethnographer and medical educator who has spent more than two decades observing medical training and teamwork from the inside.
About the Author
---
Suzanne Gordon is Visiting Professor at the University of Maryland School of Nursing and was program leader of the Robert Wood Johnson-funded Nurse Manager in Action Program. She is the author of Life Support and Nursing against the Odds, coauthor of Safety in Numbers and From Silence to Voice, editor of When Chicken Soup Isn't Enough, and coeditor of First, Do Less Harm and The Complexities of Care, all from Cornell. Patrick Mendenhall is a Principal in Crew Resource Management LLC who is a pilot for a major commercial airline and belongs to the Air Line Pilots Association. Bonnie Blair O'Connor is Professor of Pediatrics (Clinical) and Associate Director, Pediatric Residency, at Hasbro Children's Hospital/Alpert Medical School at Brown University.