A Genealogy of Literary Multiculturalism (Hardcover)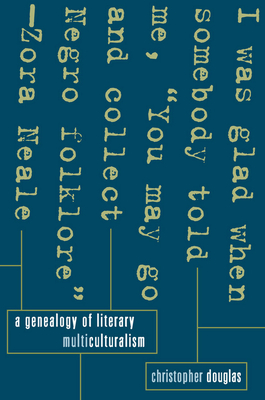 $78.00

Usually Ships in 1-5 Days
Description
---
As an anthropology student studying with Franz Boas, Zora Neale Hurston recorded African American folklore in rural central Florida, studied hoodoo in New Orleans and voodoo in Haiti, talked with the last ex-slave to survive the Middle Passage, and collected music from Jamaica. Her ethnographic work would serve as the basis for her novels and other writings in which she shaped a vision of African American Southern rural folk culture articulated through an antiracist concept of culture championed by Boas: culture as plural, relative, and long-lived. Meanwhile, a very different antiracist model of culture learned from Robert Park's sociology allowed Richard Wright to imagine African American culture in terms of severed traditions, marginal consciousness, and generation gaps.
In A Genealogy of Literary Multiculturalism, Christopher Douglas uncovers the largely unacknowledged role played by ideas from sociology and anthropology in nourishing the politics and forms of minority writers from diverse backgrounds. Douglas divides the history of multicultural writing in the United States into three periods. The first, which spans the 1920s and 1930s, features minority writers such as Hurston and D'Arcy McNickle, who were indebted to the work of Boas and his attempts to detach culture from race.
The second period, from 1940 to the mid-1960s, was a time of assimilation and integration, as seen in the work of authors such as Richard Wright, Jade Snow Wong, John Okada, and Ralph Ellison, who were influenced by currents in sociological thought. The third period focuses on the writers we associate with contemporary literary multiculturalism, including Toni Morrison, N. Scott Momaday, Frank Chin, Ishmael Reed, and Gloria Anzald a. Douglas shows that these more recent writers advocated a literary nationalism that was based on a modified Boasian anthropology and that laid the pluralist grounds for our current conception of literary multiculturalism.
Ultimately, Douglas's unified field theory of multicultural literature brings together divergent African American, Asian American, Mexican American, and Native American literary traditions into one story: of how we moved from thinking about groups as races to thinking about groups as cultures--and then back again.