The Birth Order Book: Why You Are the Way You Are (Paperback)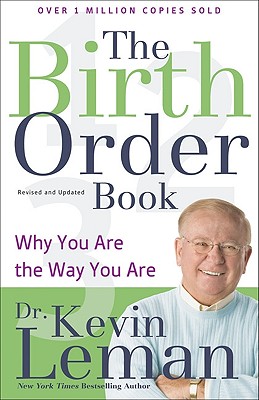 $15.99
Email or call for price
Description
---
Dr. Kevin Leman's ever-popular book on birth order is getting a new look and updated writing. With insight and wit, Dr. Leman offers readers a fascinating and often funny look at how birth order affects personality, marriage and relationships, parenting style, career, and children. Birth order powerfully influences the way people interact with others, whether they're at home or on the job.
This is a great book for anyone who wants to learn more about how they react to their world. Dr. Leman even shows readers how to overcome ingrained tendencies they never thought they'd be rid of, all by focusing on their birth order.
About the Author
---
Dr. Kevin Leman is an internationally known psychologist, humorist, and "New York Times" bestselling author of "Have a New Kid by Friday." He is former consulting psychologist for "Good Morning America" and a frequent guest on "The View," "The Early Show," and "Focus on the Family." He and his wife, Sande, live in Tucson, Arizona. They have five children and two grandchildren.