The Museum of Scent: Exploring the Curious and Wondrous World of Fragrance (Hardcover)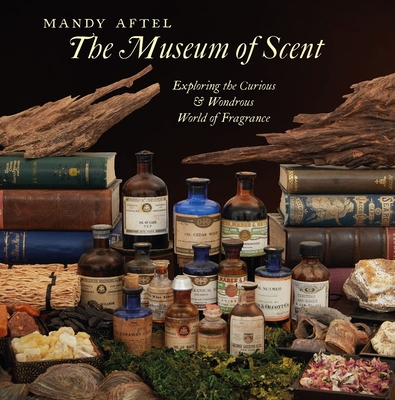 $40.00

Coming Soon - Available for Pre-Order Now
Description
---
Breathe in the natural and cultural history of scent with this richly illustrated book inspired by the Aftel Archive of Curious Scents
"This work . . . is a true original—a rarest of rare legacy volume. This book was created by a beautiful elder who is a polymath: meaning, a highly unique person of multiple modern and old ways of knowing. . . . Mandy Aftel's dons and talents are now resting in your hands in this magical tome that, I deeply sense and hope, will bless you time and again."

—From the foreword by Dr. Clarissa Pinkola Estés Reyés, author of Women Who Run with the Wolves and the forthcoming La Curandera, Walking in Two Worlds
Mandy Aftel is one of the world's preeminent natural perfumers, with a clientele ranging from the singer-songwriter Leonard Cohen to Ivy Ross, head of hardware design at Google. Eschewing the synthetic molecules that dominate commercial perfumes, Aftel creates her complex and subtle fragrances using only natural essences. For her, each of these essences is a gateway to a lost world of scent, stretching back to the beginnings of human civilization and intertwined with the history of medicine, cuisine, adornment, sexuality, and spirituality. In 2017, Aftel opened a one-room museum—the Aftel Archive of Curious Scents—in her backyard in Berkeley, California, to help a modern audience rediscover the enchantment of this lost world. Her museum has attracted thousands of enthusiastic visitors and has been featured in the New York Times, Vogue, Goop, O: The Oprah Magazine, and numerous other media outlets.



Now Aftel has created this beautiful book, illustrated with treasures from her museum's collection, so that readers at home can immerse themselves in the world of scent. She guides us through the different families of botanical fragrances (including flowers, woods, leaves and grasses, and resins), depicting each plant with a hand-colored antique woodcut and revealing its olfactory notes and lore. Special chapters are devoted to the most rare and precious fragrances—such as ambergris, formed of a rare secretion of the sperm whale—and to antique essential oil bottles, handwritten recipe books, and other evocative artifacts. The Museum of Scent, which includes a bookmark subtly scented with a natural essence, invites us on a sensuous, imaginative journey.
About the Author
---
Mandy Aftel, an internationally known artisan perfumer and authority on natural fragrance, is the owner of Aftelier Perfumes and the Aftel Archive of Curious Scents in Berkeley, California. Her other books include Essence and Alchemy: A Natural History of Perfume, which helped sparked the natural perfume renaissance and has been translated into eight languages. Aftel's work has been featured in the New York Times, Vogue, Vanity Fair, and numerous other major outlets.

Dr. Clarissa Pinkola Estés Reyés is the author of Women Who Run with the Wolves, which has been published in forty-two languages, and La Curandera, Walking in Two Worlds, forthcoming from Texas A&M University Press.
Praise For…
---
The world of perfumes is a universe all its own, and Aftel's book is a colorful, authoritative guide. . . A beautiful book about beautiful things, with a fascinating narrative told by an author who loves her subject.
— Kirkus, starred review
This work . . . is a true original—a rarest of rare legacy volume. This book was created by a beautiful elder who is a polymath: meaning, a highly unique person of multiple modern and old ways of knowing. . . . Mandy Aftel's
dons
and talents are now resting in your hands in this magical tome that, I deeply sense and hope, will bless you time and again.
— From the foreword by Dr. Clarissa Pinkola Estés Reyés, author of "Women Who Run with the Wolves" and the forthcoming "La Curandera, Walking in Two Worlds"
Opening up this book is like opening up a whole new room in your imagination you didn't quite realize existed—even if you never thought you were interested in perfume. It's gorgeous to look at and gorgeous to read, bristling with details and wild histories. It's a book to pick up again and again—whether you land on a page about onycha shells, shiso, or honeysuckle, you're swept into a dreamy world—a cabinet of curiosities for the senses that's both exquisite and endlessly surprising.
— Jean Godfrey-June, Executive Beauty Editor GOOP
The Museum of Scent
is a beautiful catalogue of Mandy's olfactory expertise and artistry. This book is a wonderful guide through the rich and fascinating world of perfumery, and a joyful invitation to sniff your way through life!
— Alice Waters, chef and owner of Chez Panisse
In
The Museum of Scent
, author Mandy Aftel writes, "You just don't smell an aroma, you fall into it." The same is true of this magnificent book: It is so rich in story, information, and images, you don't just read it, you fall into it and don't want it to end!
— Ivy Ross, co-author of New York Times bestseller " Your Brain on Art " and VP of Hardware Design at Google
From the queen of artisan perfumers, a delightful introduction to the universe of scent and scented materials. Aromatics leap off the page in all their singularity, accompanied by astounding images and fascinating context. In book form as much as in real life, Aftel's carefully curated collection presents a whole that is revelatory in every one of its component parts.
— Saskia Wilson-Brown, director & founder, The Institute for Art and Olfaction
Praise for Mandy Aftel and The Aftel Archive of Curious Scents:
"Mandy Aftel is one of the fragrance industry's most creative thinkers, not to mention one of its most prolific talents."

—Vogue





"The Aftel Archive of Curious Scents, ...home of the perfumer Mandy Aftel, is not just the first museum in the U.S. dedicated to perfume, but more beguilingly, the first one dedicated to the experience of fragrance. This tiny museum manages to contain the olfactory history of the world: hundreds of natural essences, raw ingredients and antique tinctures gathered from every corner of the globe, and all available for visitors to smell."

—T, the New York Times Style magazine





"Mandy Aftel has spearheaded the artisanal natural perfumery movement in the United States."

—Now Smell This





"Aftelier Perfumes' Mandy Aftel has built a life and a business around her undying belief in the transformative power of scent. She's created custom fragrances for her legion of celebrity fans (including Kate Hudson, Liv Tyler, Leonard Cohen, and Madonna), and worked on enigmatic projects such as recreating the burial fragrance for a 2,000-year-old child mummy in collaboration with the Rosicrucian Egyptian Museum. Whatever her project du jour, one thing is clear: Aftel literally lives and breathes perfume."

—ELLE





"Rows of old glass vials line the walls of the Aftel Archive of Curious Scents, the light-filled Berkley storehouse of pleasingly smelly things created by perfumer Mandy Aftel. You can treat your nose to florals, spices, roots, and resins, like oud (a warm, sweet, balsamic-like sap of the tropical agarwood tree) and 100-year-old ambergris (a secretion of sperm whales, it has a 'shimmery amber aroma'...says Aftel)."

—Oprah magazine





"Aftel's artisanal fragrances have earned industry honors and a dedicated global following. She trains aspiring perfumers and... opened a museum in Berkeley devoted to fragrance. But Aftel measures her success in more modest, less tangible terms. 'When someone reaches out to let me know that one of my scents has affected them, that's the biggest thrill of all.'"

—Allure.com
— Learn more on Aftelier.com