The 3 Big Questions for a Frantic Family: A Leadership Fable... about Restoring Sanity to the Most Important Organization in Your Life (J-B Lencioni #1) (Hardcover)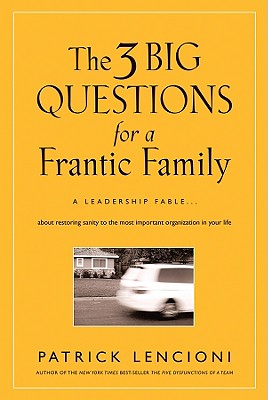 Other Books in Series
This is book number 1 in the J-B Lencioni series.
Description
---
A singularly relevant application of organizational leadership to the home and family
In this unique and groundbreaking book, business consultant and New York Times best-selling author Patrick Lencioni sets his sights on the most important organization in our lives--the family.
As a husband and as the father of four young boys, Lencioni realized the discrepancy between the time and energy his clients put into running their organizations and the reactive way most people run their personal lives. Having experienced the stress of a frantic family firsthand, he and his wife began applying some of the tools he uses with Fortune 500 companies at home, and with surprising results.
In the book, you'll learn to answer questions like:
What makes my family unique?
What is my family's biggest priority-its rallying cry-right now?
How can my family use the answers to these questions today, next week, and next year?
An indispensable resource for busy professionals with full family lives, The 3 Big Questions for a Frantic Family belongs on the bookshelves of anyone who has ever struggled to balance leading people at work with leading a family unit.
About the Author
---
PATRICK LENCIONI is a New York Times best-selling business author of seven books including The Five Dysfunctions of a Team and The Truth About Employee Engagement. He is also a husband and the father of four boys. As president and founder of The Table Group, Pat has consulted to CEOs and leadership teams in organizations ranging from Fortune 500 companies and start-ups to churches and non-profits. In addition to his books, Pat has written or been featured in publications like Harvard Business Review, The Wall Street Journal, Leader to Leader, and USA Today.To learn more about Patrick Lencioni and his other products and services, please visit www.tablegroup.com.