The Federalist Papers (Chartwell Classics) (Hardcover)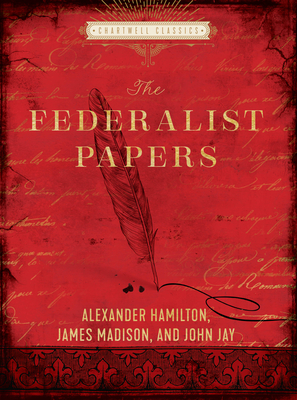 Description
---
The Federalist Papers is a collection of political essays in which three United States Founding Fathers intelligently and forcefully advocate the ratification of what became this country's supreme law.

Written by the iconic American statesman, Alexander Hamilton, the original US chief justice, John Jay, and "Father of the Constitution" James Madison, this compilation of eighty-five articles explains and defends the ideals behind the highest form of law in the United States.

These essays were published anonymously in New York newspapers in 1787 and 1788, and they foresaw many of the headline-grabbing issues surrounding impeachment, corruption, bureaucracy, and regulation that we read about today. Hailed by Thomas Jefferson as the best commentary ever written on the principles of government, The Federalist Papers are now available in this elegantly designed, unabridged hardcover edition with jacket that includes an introduction by American history scholar and author Andrew S. Tree and a historical timeline at the back.

Revolutionary classics of political philosophy, these articles are essential reading for students, lawyers, politicians, and anyone with an interest in the formation of societies.

Essential volumes for the shelves of every classic literature lover, the Chartwell Classics series includes beautifully presented works and collections from some of the most important authors in literary history. Chartwell Classics are the editions of choice for the most discerning literature buffs.
 
Other titles in the Chartwell Classics Series include: Complete Fiction of H.P. Lovecraft; Complete Grimm's Fairy Tales; Complete Novels of Jane Austen; Complete Sherlock Holme; Complete Tales & Poems of Edgar Allen Poe; Complete Works of William Shakespeare; Divine Comedy; Alice's Adventures in Wonderland and Other Tales; The Essential Tales of H.P. Lovecraft; The Inferno; The Call of the Wild and White Fang; Moby Dick; The Odyssey; Pride and Prejudice; The Essential Grimm's Fairy Tales; Emma; The Great Gatsby; The Secret Garden; Anne of Green Gables; The Essential Tales and Poems of Edgar Allan Poe; The Phantom of the Opera; The Communist Manifesto and Das Kapital; Republic; Frankenstein; Twenty Thousand Leagues Under the Sea; The Picture of Dorian Gray; Meditations; Wuthering Heights; Alice's Adventures in Wonderland and Through the Looking-Glass; A Tales of Two Cities; Beowulf; The Strange Case of Dr. Jekyll and Mr. Hyde and Other Stories; Adventures of Huckleberry Finn; Little Women
 
About the Author
---
Alexander Hamilton (1757–1804), now immortalized in the eponymous Broadway musical, was an American Founding Father and an influential interpreter and promoter of the US Constitution. As the original US Treasury Secretary, he was the main author of George Washington's economic policies, founding the nation's financial system. Mobilizing a nationwide network of friends of the government, especially bankers and businessmen, he went on to establish the Federalist Party, the US Coast Guard, and The New York Post. Hamilton was active in ending the international slave trade and died after a duel with the US Vice President Aaron Burr.
John Jay (1745–1829) was the first Chief Justice of the United States. During and after the American Revolution, he was the US ambassador to Spain, a negotiator of the Treaty of Paris by which Great Britain recognized American independence, and the Secretary of Foreign Affairs. His major diplomatic achievement was the 1794 Treaty of London, in which favorable trade terms with Great Britain were negotiated. As a leader of the Federalist Party, Jay became governor of New York state, where he was the leading opponent of slavery. By signing the 1799 "Act for the Gradual Abolition of Slavery" into law, he granted all slaves in New York freedom by the year 1827.
James Madison (1751–1836) was the fourth US President and is hailed as the "Father of the Constitution" for his pivotal role in drafting and promoting the supreme law of the United States, including the Bill of Rights. As Thomas Jefferson's Secretary of State, he supervised the Louisiana Purchase, which doubled the nation's size. Madison succeeded Jefferson as President in 1809, was re-elected in 1813, and presided over renewed prosperity for several years.