The Opposite of Certainty: Fear, Faith, and Life in Between (Paperback)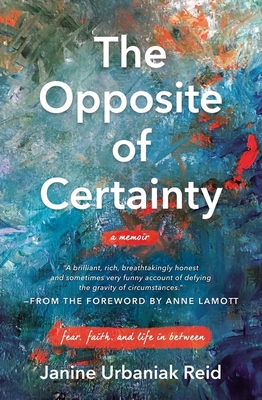 for information about purchasing this book, please contact orders@bookpassage.com
Description
---
This gripping memoir about what it means to face uncertainty details the plans Janine had for her family and her life that were gutted by her then 10-year-old son Mason's diagnosis of a cancerous brain tumor, only to be followed by her own cancer diagnosis.
All Janine Urbaniak Reid ever wanted was for everyone she loved to be okay so she might relax and maybe be happy. Her life strategy was simple: do everything right. This included trying to be the perfect mother to her three kids so they would never experience the kind of pain she pretended not to feel growing up. What she didn't expect was the chaos of an out-of-control life that begins when her young son's hand begins to shake and he is diagnosed with a brain tumor at age 10.
This moving memoir is the story of Janine's reluctant journey beyond easy answers and platitudes. She searches for a source of strength bigger than her circumstances, only to have her circumstances become even thornier when she is diagnosed with breast cancer. Drawn deeply and against her will into herself, she discovers hidden reserves of strength, humor, and a no-matter-what faith that looks nothing like she thought it would. The Opposite of Certainty is:
Brilliant, breathtakingly honest, and sometimes very funny account of marriage, motherhood, and the unfathomable salvation we find in God
An unvarnished look at defying the gravity of challenging life circumstances
The recognition that anyone can tap a source of strength inside themselves to walk through the impossible
Beautifully written and deeply hopeful, Janine shows us how we can come through impossible times transformed and yet more ourselves than we've ever allowed ourselves to be.