The Heart of a Leader: Insights on the Art of Influence (Hardcover)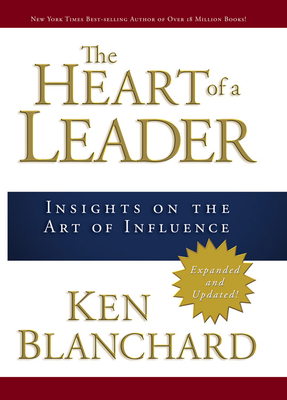 $19.99

Usually Ships in 1-5 Days
Description
---
Ken Blanchard is one of America's best-known leadership and business experts. And now he helps you understand and experience the art of influence by revealing the greatest life and leadership lessons he's learned in his rich career as an educator and business leader.
The Heart of a Leader offers Blanchard's insight and wisdom on:
Choosing values
Aiming for excellence
Maintaining integrity
Finding the courage to change
Helping others reach their potential
And much more
Arranged with your busy schedule in mind, this book offers you Blanchard's most important concepts in an accessible format. You can reach for instant motivation and insight on a daily basis or soak it up in one reading.
Powerfully challenging and deeply inspiring, The Heart of a Leader will enable you to develop the courageous heart of a true leader. master key attitudes and actions to impact lives around you. and enjoy the profound wisdom that only Ken Blanchard can deliver.
About the Author
---
Dr. Ken Blanchard is a highly respected business leadership consultant and best-selling author. His book The One-Minute Manager (with Spencer Johnson) has sold more than nine million copies worldwide, and Raving Fans and Gung Ho! (both with Sheldon Bowles) are also best sellers, along with other books in The One-Minute Manager Library. Ken is the chief spiritual officer of The Ken Blanchard Companies, a group of management training and consulting businesses that he and his wife, Dr. Marjorie Blanchard, founded in 1979. He is also a visiting lecturer at his alma mater, Cornell University, where he received his B.A. and Ph.D. degrees.