The Siren (Original Sinners #1) (Paperback)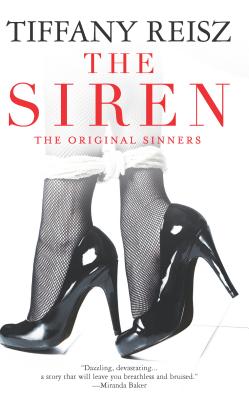 $13.95

Usually Ships in 1-5 Days
Other Books in Series
This is book number 1 in the Original Sinners series.
Description
---
Notorious Nora Sutherlin is famous for her delicious works of erotica, each one more popular with readers than the last. But her latest manuscript is different--more serious, more personal--and she's sure it'll be her breakout book...if it ever sees the light of day. Zachary Easton holds Nora's fate in his well-manicured hands. The demanding British editor agrees to handle the book on one condition: he wants complete control. Nora must rewrite the entire novel to his exacting standards--in six weeks--or it's no deal. Nora's grueling writing sessions with Zach are draining...and shockingly arousing. And a dangerous former lover has her wondering which is more torturous--staying away from him...or returning to his bed? Nora thought she knew everything about being pushed to your limits. But in a world where passion is pain, nothing is ever that simple.
About the Author
---
Tiffany Reisz lives in Lexington, Kentucky. She graduated with a B.A. in English from Centre College and is making her parents and her professors proud by writing erotica under her real name. She has five piercings, one tattoo, and has been arrested twice. When not under arrest, Tiffany enjoys Latin Dance, Latin Men, and Latin Verbs. She dropped out of a conservative seminary in order to pursue her dream of becoming a smut peddler. If she couldn t write, she would die."
Praise For…
---
"Tiffany Reisz is a smart, artful, and masterful new voice in erotic fiction! An erotica star on the rise!"-Award-winning author Lacey Alexander



"Dazzling, devastating and sinfully erotic, Reisz writes unforgettable characters you'll either want to know or want to be. The Siren is an alluring book-within-a-book, a story that will leave you breathless and bruised, aching for another chapter with Nora Sutherlin and her men."
-Miranda Baker, author of Bottoms Up and Soloplay



The Original Sinners series certainly lives up to its name: it's mindbendingly original and crammed with more sin than you can shake a hot poker at. I haven't read a book this dangerous and subversive since Chuck Palahniuk's Fight Club. The most shocking thing, however, is how much you'll feel for the characters. If your heart doesn't break at least ten times over the course of The Siren, check yourself into a morgue."--Andrew Shaffer, author, Great Philosophers Who Failed at Love



"The Siren is a powerful, evocative tale of discovering who you truly are. Tiffany Reisz nails the complicated person inside all of us."
-Cassandra Carr, author of Talk to Me



"Provocative, smart and downright cheeky. The Siren put me through my paces and had me begging for more."
-Emma Petersen, author of Reign of Pleasure



"Daring, sophisticated, and literary. . .exactly what good erotica should be."
-Kitty Thomas, author of Tender Mercies