The C Students Guide to Scholarships (Peterson's C Students Guide to Scholarships) (Paperback)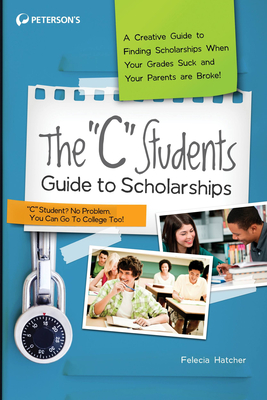 $16.95

Usually Ships in 1-5 Days
Description
---
Peterson's The C Student's Guide to Scholarships (Peterson's C Student's
Guide to Scholarships)1st Edition
Unlike most scholarship guides that are aimed only at the straight-A student, this guide shows that it is possible for average or even below-average students to win some of the millions of dollars in available scholarship awards.
This is the essential guide to help you find scholarships when you are an average student. Author Felecia Hatcher has dedicated her life to motivating young people to look past their circumstances and their grades and get creative As a C student herself in high school, Hatcher beat the odds and won over $100,000 in scholarships to attend college. She believes that you are an individual with unique talents Being a "C" student doesn't mean you can't succeed in life
Inside this guide you'll find:
Secrets and techniques needed to apply for hundreds and thousands of dollars in scholarships and grants to compete with straight A students
Insightful, resourceful information to help you achieve college and scholarship success
Step-by-step guidance to turn hidden talents and unique strengths into cash for college
Personal testimonials from C students who found their way to success
Advice on requesting letters of recommendation and working with your recommenders
Read Peterson's The C Students Guide to Scholarships (Peterson's C Students Guide to Scholarships) to learn how you can win scholarships for college, too
About the Author
---
Felecia Hatcher is a former "C" student who won scholarships and grants totaling over $130,000 in free money for college. Her guidance and advice have helped hundreds of students gain access to scholarships and grants. Hatcher is a successful entrepreneur, writer, and motivational speaker who has been featured in Essence Magazine's "Black Women's Guide to Funding Your Education" as well as in Entrepreneur, The Boston Globe, The Miami Herald, and Black Enterprise Magazine.