Feeling Good Together: The Secret to Making Troubled Relationships Work (Paperback)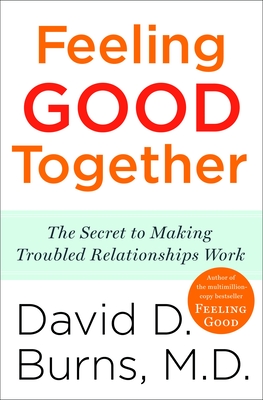 $15.99
Email or call for price
Description
---
Based on twenty-five years of clinical experience and groundbreaking research on more than 1,000 individuals, Feeling Good Together presents an entirely new theory of why we have so much trouble getting along with each other, and provides simple, powerful techniques to make relationships work.

We all have someone we can't get along with—whether it's a friend or colleague who complains constantly; a relentlessly critical boss; an obnoxious neighbor; a teenager who pouts and slams doors, all the while insisting she's not upset; or a loving, but irritating spouse. In Feeling Good Together, Dr. David Burns presents Cognitive Interpersonal Therapy, a radical new approach that will help you transform troubled, conflicted relationships into successful, happy ones.

Dr. Burns' method for improving these relationships is easy and surprisingly effective. In Feeling Good Together, you'll learn how to:

- Stop pointing fingers at everyone else and start looking at yourself.
- Pinpoint the exact cause of the problem with any person you're not getting along with.
- And solve virtually any kind of relationship conflict almost instantly.

Filled with helpful examples and brilliant, user-friendly tools such as the Relationship Satisfaction Test, the Relationship Journal, the Five Secrets of Effective Communication, the Intimacy Exercise, and more, Feeling Good Together will help you enjoy far more loving and satisfying relationships with the people you care about.

You deserve rewarding, intimate relationships. Feeling Good Together will show you how.

About the Author
---
David D. Burns, MD, is an adjunct clinical professor of psychiatry emeritus in the Department of Psychiatry and Behavioral Sciences at the Stanford University School of Medicine, and has served as Visiting Scholar at Harvard Medical School. His bestselling book, Feeling Good, has sold over four million copies.
Praise For…
---
Praise for Feeling Good Together from mental-health professionals:

"This is the finest work of its kind and will stand for generations as the relationship book."
--Matthew May, MD, adjunct clinical faculty, Department of Psychiatry and Behavioral Sciences at the Stanford University School of Medicine

"Feeling Good Together should be required reading for all couples who want to create a happy, healthy relationship." --Tori Kelley, PhD, LMHC, owner, Central Florida Mental Health, Inc.

"Finally, a relationship repair tool kit without fluff or camouflage. Change is a choice for brave and daring souls. Thank you, Dr. Burns!" --Nancy Ellen Lee, MFT, PhD

"Implementing these ideas has been truly life changing. It works!" --Mischa Routon, MFT

"The relationship strategies in this book are simple but profound. This is Dr. Burns's most seminal work. " --Jan Stanfield, MFT/LCSW

"A powerful set of tools (and even a tool kit) to evaluate, repair, or enhance our relationships. Feeling Good Together is destined to become a classic." --Hugh Baras, PhD, adjunct clinical assistant professor, Department of Psychiatry and Behavioral Sciences at the Stanford University School of Medicine