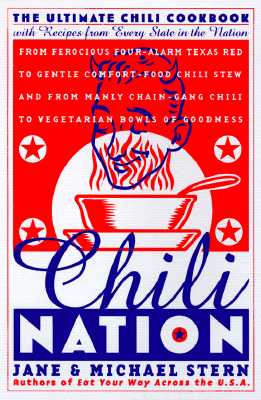 $12.95
Email or call for price
Description
---
Time to Chow Down and Chili Up!

Here is the most comprehensive guide ever to making and enjoying America's favorite meal in a bowl.

From California's Gilroy Super Garlic Chili and Florida's Havana Moon Chili to Wisconsin's Green Bay Chili and New Hampshire's Yankee Bean Pot Chili, Chili Nation features chili recipes from all fifty states.  With their incomparable wit and style, Jane and Michael Stern offer chili history and trivia, a mail-order guide to the best spices and peppers, and tales of beloved chili parlors coast to coast.
About the Author
---
Jane and Michael Stern are the authors of more than twenty books about America, including Eat Your Way Across the U.S.A. and Roadfood. They write the "Two for the Road" column in Gourmet and the "Wish You Were Here" postcards for Conde Nast's Epicurious on the World Wide Web. The Sterns, who are regular contributors to Public Radio's The Splendid Table, have also written for The New Yorker and made frequent appearances on CBS This Morning and NBC's Saturday Today. They live in Connecticut.
Praise For…
---
Praise for Jane and Michael Stern:

"Jane and Michael Stern...should be given a medal and then promptly sent off to donut rehab."
--Time Out New York

Praise for Eat Your Way Across the U.S.A.:

"Jane and Michael Stern's Eat Your Way Across the U.S.A. offers rhapsodic celebrations of American regional food."
--New York magazine

"The Sterns have compiled a cross-country culinary guide that should be stashed in every food lover's glove compartment, right next to the maps and the Swiss Army knife.  .  .  .  [This book] sure does make you want to head out to the back roads and blue highways and chow down."
--People magazine