Shades of Milk and Honey (Hardcover)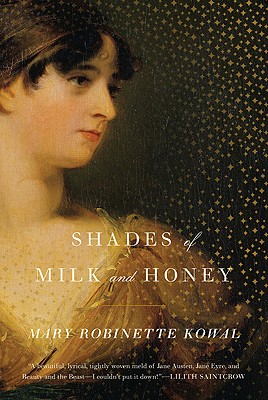 $24.99
Email or call for price
Description
---
The fantasy novel you've always wished Jane Austen had written

Shades of Milk and Honey is exactly what we could expect from Jane Austen if she had been a fantasy writer: Pride and Prejudice meets Jonathan Strange & Mr. Norrell. It is an intimate portrait of a woman, Jane, and her quest for love in a world where the manipulation of glamour is considered an essential skill for a lady of quality.

Jane and her sister Melody vie for the attentions of eligible men, and while Jane's skill with glamour is remarkable, it is her sister who is fair of face. When Jane realizes that one of Melody's suitors is set on taking advantage of her sister for the sake of her dowry, she pushes her skills to the limit of what her body can withstand in order to set things right—and, in the process, accidentally wanders into a love story of her own.
About the Author
---
Mary Robinette Kowal was the 2008 recipient of the Campbell Award for Best New Writer and a Hugo nominee for her story "Evil Robot Monkey." Her short fiction has appeared in Strange Horizons, Asimov's, and several Year's Best anthologies. Mary is an active member of Science Fiction and Fantasy Writers of America and currently serves on the Board of Directors.

A professional puppeteer and voice actor, she grew up in North Carolina and spent five years touring nationally with puppet theaters. She wrote "Shades of Milk and Honey" while living in Iceland and performing on the hit television show "Lazytown." Mary currently lives in Portland, OR with her husband Rob and nine manual typewriters.
Praise For…
---
"If Jane Austen had written a fantasy novel, Shades of Milk and Honey would have been the result. Written with painstaking attention to detail, Kowal's prose is serenely evocative of the time period, and the fantastic elements are a seamless fit. The characterization is extremely well done and Jane is a sympathetic, strong and intelligent heroine whose devotion to her family trumps nearly every other concern. Give this one a try!" —RT Book Reviews, 4 ½ stars, Top Pick!
"Readers will be disappointed only when they finish this enchanting story, which is suffused with genteel charm… With the grace of Sense and Sensibility, a touch of classic fairy tale magic, and an action-packed ending, this debut novel by an award-winning fantasy short story writer will appeal to fans of Jane Austen, Jane Yolen, Patricia Wrede, Susannah Clarke, and even Jasper Fforde." —Library Journal
"Cliché as it might sound, if Jane Austen had sat down to pen a fantasy, this is the book she would have written. The tone, the cadence, the sweep, every bow and curtsey of the language is woven into Shades of Milk and Honey… Kowal's mastery is the art of the Austenite nuance… When I reached the last page I just wanted to start it all over again. It left me craving nothing but a cup of Constant Comment...and the sequel." —Intergalactic Medicine Show
"A beautiful, lyrical, tightly-woven meld of Jane Austen, Jane Eyre, and Beauty and the Beast--I couldn't put it down!" --Lilith Saintcrow
"Simply enchanting, and another great advance in an already impressive literary career. You're going to love this." --John Scalzi
"Shades of Milk and Honey is a lovely, smart, strange novel with everything on earth (and elsewhere) to recommend it. Smoothly crafted with a flair for romance and mystery, this story is one part meticulous manners and one part wild magic -- composing a whole that's utterly irresistible." --Cherie Priest
"Kowal's first novel is a beautifully told story of being true: true to love, true to family, and true to art, even when it seems that one of them must give. It's a marvelous and promising debut, and hints at more wonders to come." --Cory Doctorow