Extinction: A Novel (Hardcover)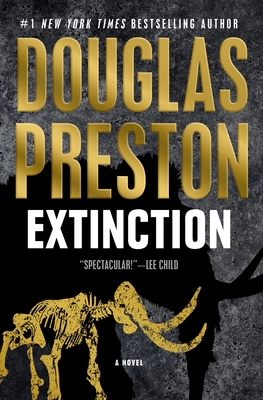 $29.99

Coming Soon - Available for Pre-Order Now
Description
---
With Extinction, #1 New York Times bestselling author Douglas Preston has written a page-turning thriller in the Michael Crichton mode that explores the possible and unintended dangers of the very real efforts to resurrect the woolly mammoth and other long-extinct animals.

Erebus Resort, occupying a magnificent, hundred-thousand acre valley deep in the Colorado Rockies, offers guests the experience of viewing woolly mammoths, Irish Elk, and giant ground sloths in their native habitat, brought back from extinction through the magic of genetic manipulation. When a billionaire's son and his new wife are kidnapped and murdered in the Erebus back country by what is assumed to be a gang of eco-terrorists, Colorado Bureau of Investigation Agent Frances Cash partners with county sheriff James Colcord to track down the perpetrators.

As killings mount and the valley is evacuated, Cash and Colcord must confront an ancient, intelligent, and malevolent presence at Erebus, bent not on resurrection—but extinction.
About the Author
---
DOUGLAS PRESTON has published forty books of both nonfiction and fiction, of which over thirty have been New York Times bestsellers, a half-dozen reaching the #1 position. He is the co-author, with Lincoln Child, of the Pendergast series of thrillers. He also writes nonfiction pieces for the New Yorker Magazine. He worked as an editor at the American Museum of Natural History in New York and taught nonfiction writing at Princeton University. He is president emeritus of the Authors Guild and serves on the Advisory Board of the School for Advanced Research in Santa Fe.
Praise For…
---
"A thriller as breathlessly riveting as you would expect from a genre master like Douglas Preston, but much more too: it's meaty and thought-provoking, and tells us a lot about our distant past—and our immediate future. Spectacular!"
—Lee Child, #1 New York Times bestselling author

"Preston's latest thriller, Extinction, is Jurassic Park for the Pleistocene Era—and that's no exaggeration. It's got everything I love: fantastic creatures, wild adventures, and dynamic heroes. But most frightening of all, it shines a disturbing light on where the science of genetic engineering might be venturing next. Read at your own risk!"
—James Rollins, #1 New York Times bestselling author

"Doug Preston is a master storyteller. I'm still thinking about Extinction—which is both entertaining and frightening—every page like a tasty treat. You have to read this!
—Steve Berry, #1 New York Times bestselling author

"One of the most heart-stopping, terrifying climaxes of any novel I've read in recent years. Preston ingeniously combines real-life science and technology into his novels, and Extinction brings it all together in a thriller that's truly thrilling!"
—Tess Gerritsen, New York Times bestselling author of The Spy Coast

"There's a reason Douglas Preston is a bestselling author, and to say Extinction is a 'thrill ride' is one serious understatement. A suspenseful story with shocking reveal after shocking reveal, believe me when I say you are going to read this book quickly! And do yourself a favor, get prepared now for one heart-pounding conclusion!"
—Michael C. Grumley, bestselling author of the Breakthrough series and Deep Freeze

"A harrowing ride through a plausible near-future, in which humans' own ingenuity creates the gateway to our destruction. It's classic Douglas Preston—a mind-blowing thriller backed with enough science to make you worry about real-life dangers. Terrific."
—Joseph Finder, New York Times bestselling author of House on Fire

"Extinction kept me glued to the pages - a thriller with so many elements and great characters! A true keeper—I will read it again!"
—Heather Graham, New York Times bestselling author and winner of the Thriller Writers of the World and Romance Writers Lifetime Achievement Awards

"The novel moves like a bullet, and I was hooked throughout. Preston's research and scientific acumen were especially impressive. He really puts you there in the scene and convinces you . . . this is happening! An amazing achievement."
—Larry Niven, author of the #1 New York Times bestseller Footfall and Ringworld

"As with all of Preston's work, Extinction is clever, fast, and one hell of a good read. But most of all, it's smart. As anthropologists who write in this this genre, we consider Extinction outstanding. We raced through it and couldn't wait to find out what would happen next!"
—Kathleen O'Neal Gear, New York Times bestselling author of The Ice Orphan, W. Michael Gear, New York Times bestselling author of Dissolution and co-authors of the New York Times-bestselling People of the Earth series

"Completely entertaining! Douglas Preston's amazing ability to combine nonstop propulsive storytelling with captivating scientific reality is unrivaled. Clear your calendar and buckle in for this extraordinarily cinematic thriller. You will never look at our world—past or future—the same way again. Don't miss this!"
—Hank Phillippi Ryan winner of five Agatha Awards and USA Today bestselling author of The House Guest