Up Your Score: SAT, 2016-2017 Edition: The Underground Guide (Paperback)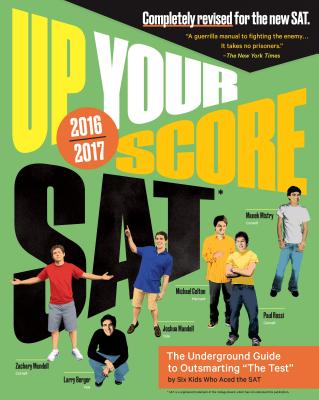 Description
---
Thoroughly overhauled for the new SAT, Up Your Score is the only test-prep guide written by students—all of whom achieved perfect or near-perfect scores and went on to the colleges of their choice. A complement and reality check to the mainstream SAT study guides,  it's the book that kids recommend to each other, because it's as entertaining as it is effective, showing students how to:

•    Think like the SAT
•    Master insider math tricks
•    Remember the 13 most important grammar rules
•    Hone their speed and timing
•    Be a better guesser (and why it's always better to guess)
•    Vanquish anxiety and improve concentration
•    Best fill in the answer circles, saving nearly six minutes
•    Unwind with SAT Yoga

Packed with up-to-date information and smart strategies for the redesigned SAT, this new edition of Up Your Score is written with a sharp sense of humor in the irreverent voice of a peer, so it engages kids, rather than puts them to sleep. And, to really keep that energy up, it includes a recipe for Sweet & Tasty 800 Bars.
 
About the Author
---
Larry Berger is a Yale graduate and Rhodes Scholar and the CEO of Amplify Learning.
Michael Colton, a Harvard graduate, writes for film and television.
Manek Mistry received his undergraduate and law degrees from Cornell.
Paul Rossi is a Cornell graduate and teaches high school math and philosophy.
Guest editor Zachary Mandell, the brother of Joshua, is enrolled at Cornell.
Guest editor Joshua Mandell, the brother of Zachary, is enrolled at Yale.