Unlikely Friendships for Kids: The Monkey & the Dove: And Four Other Stories of Animal Friendships (Hardcover)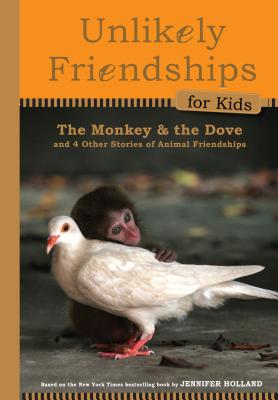 Other Books in Series
This is book number 1 in the Unlikely Friendships for Kids series.
Description
---
Good friends come in all shapes and sizes!

Unlikely Friendships, the runaway New York Times bestseller with a compelling message of hope and friendship and differences overcome, is rewritten just for younger readers. This hardcover chapter book for children ages seven and up collects five heartwarming true stories of animal friendship: a dog that loves an elephant, a bear and a cat who become best friends, a house cat who looks after a dog as he goes blind, a lioness who protects a baby antelope, and a dove who befriends a baby Rhesus monkey.

Chapter books give young readers a strong sense of accomplishment, and these heartwarming animal stories, with their incredible photographs and inexplicable mysteries of attraction, their focus on friendship, love, and the ways that creatures of all different species can find common bonds of affection, will keep kids turning the pages to find out about the unusual ways animals help each other and discover the love of new friends.

Each is a perfect gift for young animal lovers, and a lovely subject to help kids get reading.
About the Author
---
Jennifer S. Holland is a contributing writer for National Geographic. She has also written for, among others, The Discovery Channel, NPR, and The New York Times, specializing in science and natural history.