What to Expect: Eating Well When You're Expecting (Paperback)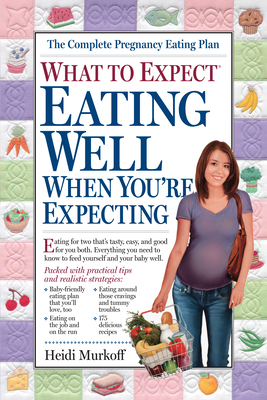 Description
---
Expect to eat well and find answers to all your questions.
The thought of a salad makes me green, and I'm craving burgers 24/7. What should I do?
I never have time to cook—how can I eat well on the run?
Can I still have sushi? And what's this I hear about tuna?
How much weight should I gain . . . and at what rate?
I never drink milk. Can I get enough calcium without it?
Is it true that I should stay away from soft cheese?
I'm a vegetarian. Do I have to switch over to meat-eating while I'm pregnant?
How to eat your way healthily, deliciously, and effortlessly through those nine months of baby-making and beyond. It's all here—whether you're at home, on the run, or on the job; a snacker, a grazer, or a meal-eater; a salad lover or a candy craver; short on time or low on money; too queasy or bloated or beat to eat; trying to keep your weight on target or those pesky pregnancy symptoms in check. Plus, the latest lowdown on low carbs, vegetarian diets, caffeine, supplements, food safety, and more. Includes 175 quick-to-fix yummy recipes that pack in nutrients while gratifying taste buds.  
About the Author
---
Heidi Murkoff is the author of the What to Expect® series of pregnancy and parenting books with over 38 million copies in print. She is also the creator of WhatToExpect.com and the WhatToExpect app, which reach over 18 million expecting and new parents, and the What to Expect Foundation, a nonprofit organization dedicated to helping at-risk moms around the world expect healthier pregnancies, safer deliveries, and healthy, happy babies.